God Eater 3 producer on why the game is being brought to Switch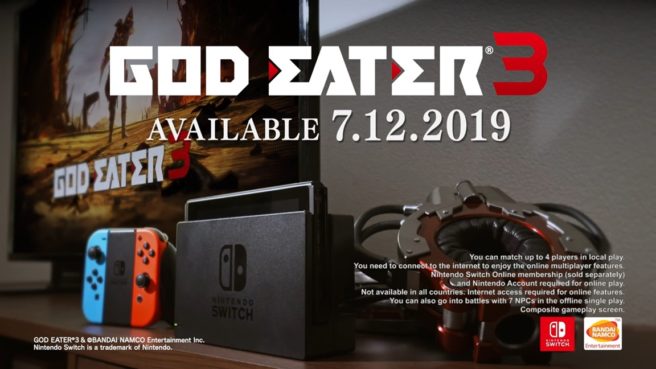 God Eater 3 producer Yuya Tomiyama sounded up for a Switch port when asked about the possibility earlier this year. Just a few days ago, Bandai Namco announced that the game will indeed be brought to Switch.
Tomiyama spoke about the news in a Japanese blog post on the official God Eater 3 site this week. Speaking about why a Switch version made sense, he said:
Ever since we announced the title of the game, fans have been clamoring for a Switch version of "God Eater 3".

We heard many people say:
"It's tough/impossible to play this game at home on the TV for me."
"I want to play multiplayer with my friends in-person."
"I'm used to playing this game as a portable experience, so I want a portable version."

Because of this, while we were working on developing the main game and the post-launch free updates, we had a separate team investigating the possibility of a port. We weighed the pros and cons of porting the game for a long time, but I'm happy to say that today we can finally confirm a Switch release for all the fans.

The contents of the game will be the same as the PS4 and Steam versions. In addition to this, we are adding special features unique to the Switch version, such as local co-op multiplayer.
Other than that, Tomiyama said more God Eater 3 updates are planned for the future, with news to follow later on. The team will continue to listen to fans requests and opinions on the games.
---
Thanks to Oni_Dino for contributing to this post.
Leave a Reply