Hyrule Warriors: Age of Calamity devs on satisfying Zelda: Breath of the Wild fans, glad the game didn't leak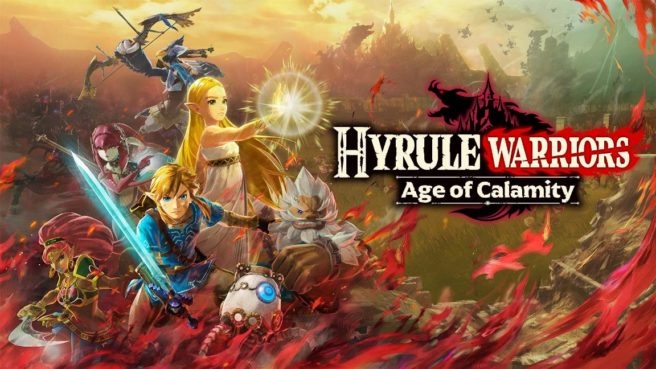 Last week was pretty significant for Hyrule Warriors: Age of Calamity. Fans were treated to the first gameplay footage, a new trailer, and even the confirmation of young Impa being in the game.
Producers Yosuke Hayashi and Masaki Furusawa as well as director Ryota Matsushita were the team members representing Hyrule Warriors: Age of Calamity at the TGS 2020 Online presentation. To close things about, the three developers shared a few words about the game, including satisfying fans of Zelda: Breath of the Wild.
Here's our full translation:
Matsushita: We know that many people treasure the experiences they've had with The Legend of Zelda: Breath of the Wild. We're confident that this game will satisfy those players, so we really hope you all look forward to the game launching soon.

Furusawa: Since this game takes place 100 years before Breath of the Wild, I think it's one moving part of a greater whole. We worked very closely with the Zelda team; they supervised all of our work. I worked on the first Hyrule Warriors title, but compared to that, the Zelda team was over 100 times more involved this time around. I think the team did a great job of providing all sorts of things that fans of Breath of the Wild would want – I think we all really got there in the end. I can't wait for players to try it out.

Hayashi: We started development on Hyrule Warriors: Age of Calamity after Eiji Aonuma of Nintendo approached us. We thought we were done with Hyrule Warriors games, at least for the time being. The first game was like a celebration of Zelda and was full of characters from throughout the series. But then he approached us with this great idea, and here we are working on this amazing game. I'm sure it's in-line with everyone's expectations, and I'm excited for players to experience it. I hope we can make more interesting games like this in the future.
We'll also mention a little something else from the presentation. When asked about how he feels regarding the fans' response to the game's announcement last month, Hayashi said he was glad the game didn't leak. Many announcements are spoiled these days, but Hyrule Warriors: Age of Calamity was kept quiet until the reveal.
Hayashi's full words:
"I am just so glad the game didn't leak! (Laughs) We really wanted it to be a surprise, so it was great to see everyone so excited by the announcement."
Hyrule Warriors: Age of Calamity launches for Switch on November 20.
---
Translation provided by Oni Dino on behalf of Nintendo Everything.
If you use any of this translation, please be sure to source Nintendo Everything. Do not copy its full contents.
Leave a Reply