Immortals Fenyx Rising dev on Zelda: Breath of the Wild comparisons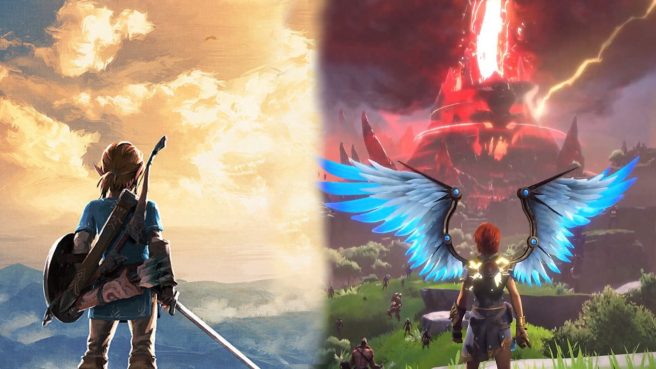 Zelda: Breath of the Wild and Immortals Fenyx Rising have their fair share of similarities, which fans have been quick to point out. They're both open-world action-adventure games, have mechanics like climbing and gliding, and offer mini dungeons with puzzles. Immorals Fenyx Rising does look to set itself apart by focusing on Greek mythology, a fully customizable character and more, but Ubisoft doesn't view the Zelda comparisons as a negative thing.
Immortals Fenyx Rising associate director Julien Galloudec told Nintendo Everything that Breath of the Wild is one of the games Ubisoft looked at, especially when it came to puzzles. He also pointed out Jak & Daxter and Banjo-Kazooie as other titles the team explored.
Galloudec shared with us:
"At the very beginning, we wanted to mix the open world, Greek mythology, and also more platforming gameplay, so that was the base intention. And also, something we wanted to do is to create like a Disneyland of Greek mythology, so to build the world like a theme park with each region strongly themed around a god. You can go somewhere in the world, you can see the world map, and you can clearly see the different regions and the themes and all of the activities that are waiting for you.

Then we started to look at a lot of that, and obviously we've seen early on similarities with Breath of the Wild – mainly in terms of structure of the game – so we looked at that, we looked at what they did for puzzles because it was a pretty big inspiration. After that we also looked at many other games – games like Jak & Daxter and Banjo & Kazooie for example – that are action-packed and mix combat and platforming, and a bit of puzzles in small open worlds that are very colorful.

We drew a lot of different inspirations to fit us based on what we wanted to do. Obviously because when you look at something new, you're looking for patterns and things that looks like it, so we knew that we'd be compared to Zelda and to Assassin's Creed, but I think it's pretty good to be compared to Assassin's Creed and Zelda. I think it's a positive thing in the end."
One big way in which Immortals Fenyx Rising and Breath of the Wild differ is how they go about the story and progression. Unlike Zelda: Breath of the Wild, you can't attempt to beat the final boss right away.
Galloudec explained why:
"There are two reasons for that. First, we wanted the story and the narration to be an important aspect of the game, so we wanted that build up for the character – the main character and the other characters. There are a lot of things to uncover about why you're here, the gods, what happened, and also about who you are – Fenyx as a character – so we really wanted to keep that as an important part of the game. And on top of that, we also wanted to build up your character in terms of progression, and to really need the power from the gods. For that we need some milestones along the way before reaching that big titan – the deadliest titan of mythology. You have a lot of freedom in the way you can explore the world and tackle the different quests, so you can choose to start with one god and then another, you can do two gods in parallel for example, but there are a couple of milestones that you have to reach and complete before being able to reach Typhon."
Immortals Fenyx Rising is out now on Switch. We'll be sharing more news from our interview soon.
Leave a Reply