[Interview] Crytek on Crysis Remastered – how it came to be, putting it on Switch, more patches to come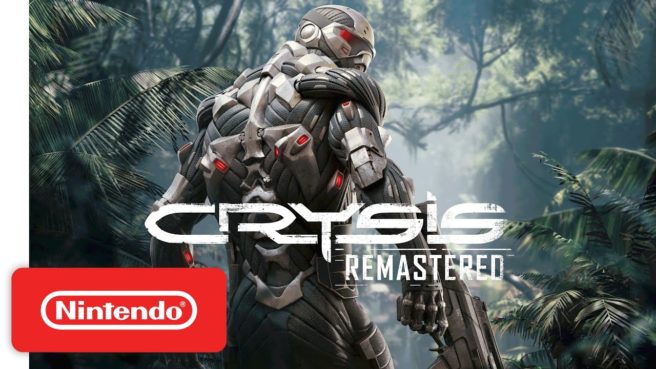 The original Crysis was one of the most technically impressive games on the PC when it debuted back in 2007. At the time, no one would have predicted that it'd be on a Nintendo console, let alone in handheld form. Yet with Crysis Remastered, the series has now come to Switch and you can play the game anywhere you like.
Prior to Crysis Remastered's launch on Switch, we spoke with project lead Steffen Halbig. We chatted about a number of topics, including how this new release came about and what it's been like bringing the game to Nintendo's system. We also have reconfirmation that more patches are planned to add even more to the Switch version and improve it further.
Here's our full discussion:
How did Crysis Remastered come to be? Why did Crytek decide to bring the shooter back now?

Over the last decade we received so many awesome comments from our community – on a daily basis! – asking us to bring the Crysis franchise back. We considered the possibility of a remaster many times, but the timing wasn't right until now. Crysis has been used as a benchmark throughout its lifespan, and our own expectations at Crytek are high – we want any Crysis Remastered release to have visuals as stunning as they were when we first experienced them in 2007. With the current CRYENGINE technologies, we were able to meet those expectations on all platforms by adding software-based ray tracing, up to 8K textures, HDR support, and many other improvements.

Originally, Electronic Arts published the Crysis games. Did Crytek have to work with EA on acquiring the rights or did the studio always own the IP?

While EA published the Crysis Games originally, the IP always belonged to Crytek.

How did Saber Interactive get involved with the project? How much of the work was split between Crytek and Saber?

We followed Saber Interactive for quite some time and were impressed with their work. To collaborate with them on Crysis Remastered was the logical conclusion, and while Saber did the heavy lifting on development, our CRYENGINE team supported them by bringing in the latest features.

Were any gameplay improvements implemented, or were the changes focused on enhancing the game's visuals?

For the remastered version on Switch, we focused on enhancing the game visuals, optimized everything for a handheld gaming experience, and added gyro aiming.

It came as somewhat surprising news that Crysis Remastered is coming to Switch since we don't always see these multiplatform shooters on the system. What was behind the decision to bring the game to Nintendo's console?

We have never released a game on a Nintendo console and felt that we were finally ready to make our debut on Switch. Partnering with Saber Interactive, who brought The Witcher franchise to Switch, also played a big role in this, giving us the confidence to bringing Crysis to Nintendo Switch.

What was the process like of actually developing Crysis Remastered for Switch? Did the team encounter any difficulties along the way?

Bringing Crysis to Switch wasn't without its challenges – mainly because we wanted to optimize the game for a handheld experience with its given limitations – but overall it went pretty smoothly. Saber Interactive put a dedicated team on the job, and in close collaboration with our CRYENGINE team, we managed to get it to run on Switch quickly and were able to add more and more features and improvements over time.

What's the final frame rate and resolution for the Switch version of Crysis Remastered?

In docked mode, Crysis Remastered will run at 720p, though this can scale to 900p due to dynamic resolution. In handheld mode it runs between 540-720p. Both docked and handheld mode will run at 30fps.

While the Switch version doesn't have all of the bells and whistles from other versions of Crysis Remastered, the visuals have been improved since the original release. Can you outline the graphical enhancements made for the Switch version specifically?

Yes, I believe it's fair to say we put everything in that the Switch allows for, and those improvements include features like vegetation bending, depth of field and motion blur, enhanced dynamic lighting, global illumination (SVOGI), gyro aiming, and upgraded textures. But we are known for pushing technology further, and we will try to add more with upcoming patches.

Does the Switch version support gyro controls? If not, did the team consider implementing that feature?

Yes, Crysis Remastered supports gyro controls.

There was a bit of confusion surrounding Crysis Remastered's release date and delay. After it was announced that the game would be pushed back across all consoles, the Switch version is still launching on July 23. Can you explain what happened with the release timing? After looking at the Switch version, did Crytek feel that it was good enough to launch ahead of other platforms?

The Nintendo Switch version was developed by a different team and uses a different pipeline.

Does the team have any interest in remastering other Crysis games? How about an entirely new Crysis game?

Let's see what the future brings! Right now we are focusing on bringing Crysis Remastered out on all platforms.
Leave a Reply