[Interview] Daybreak Games talks DC Universe Online on Switch: tech performance, challenges, cross-play, updates, much more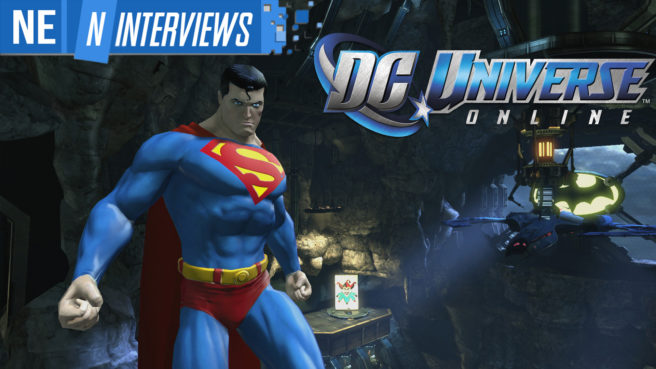 Will DC Universe Online make use of Switch's features in any particular way?

Bowers: No, not really. It is the same game from one console to the next.

Mueller: I mean there's one benefit. You can play in a hotel room on a handheld!

Is the Switch port being done entirely in-house or are you working with any external developers?

Bowers: Nope, it's all out of our Austin studio.

Can you talk about the process of actually bringing the game to Switch? Any difficulties along the way?

Bowers: As far as technical hurdles, we started really developing last October – just towards the end of 2018. I think by December we were really full steam ahead working on it and now it's June and we're in submission at this point. Along that path we definitely at first, we did hit a few roadblocks. Honestly the whole process was pretty seamless after a certain point. It did become pretty much a daily realization that we were making progress is the best way I can describe it. You could see it really working and it went very well. That's the best way I can describe it.

We've heard that DC Universe Online won't support cross-platform play at launch, but could we see that change in the future?

Bowers: In terms of cross-play, it's a big deal for me to keep all of our communities in parity with one another. Nobody gets a build that's special to them. Everybody is on the same playing field. With launching on a new console, I wanted to make sure that we gave that community time to get settled – us working with Nintendo, making sure we have a really good process in place with the amount we do update the game, make sure that's all seamless. So cross-play wasn't something that we wanted to tackle right away, because we want to make sure the experience is perfect, but it's something that I certainly will not rule out, and it is something that we all have a vast interest in as we see PlayStation slowly getting into that space because they are already cross-play with PC for our game. The space is starting to open up, and I think that we will probably make steps to try and make that happen in the future, but can't say exactly when.

Mueller: I definitely learned that anything can happen. Eight years ago, if you told me, 'You're gonna be on Nintendo and it's gonna be a handheld,' I would have been like, 'You're an idiot. That's impossible.' (laughs) But no, anything can happen.

Will the Switch version contain the same content and features as on other platforms?

Bowers: Yes, that is correct.

Will the game require a constant online connection in order to play?

Mueller: Yeah, it's an online experience, but we're happy to say this is real. There's a server running back home, and we logged in through the hotel Wi-Fi on these Switches, so it's like real. There's no smoke and mirrors happening here. We even had it working on a hot-spot the other day!

Are you planning on having the Switch version updated in line with other platforms?

Bowers: I'm hoping that they'll stay in parity. I think that there could be – in launching on a new console and sort of getting our feet wet with Nintendo and making sure that our updates are going out the way we want – there could be a little bit of lag time, but we're certainly hoping that that would not be the case. We've been able to accomplish that on our other platforms, so it's always a concern, but at the very least we will try to make that window as short as possible.

Mueller: And a lot of our content that we create is relevant to the DC brand as a whole. That's why we kind of want it all to happen at the same time, because it's curated. Atlantis came out in December shortly after a little tiny movie called Aquaman. We're very specific in our choices of what's coming out in a given time because we want to give the players what they want. Like the Shazam film came out earlier this year, Shazam is featured in our Justice League Dark episode. We want everyone to get that same access.

Is voice chat supported on Switch? If so, will you be using the Nintendo Switch Online app or a different method?

Bowers: There's voice chat built into the game. It's built into our client, so we have our own voice chat system. We have our own integrated system.

In terms of performance on Switch, is the team targeting a particular frame rate and resolution?

Bowers: So resolution was something that we're digging into. I couldn't remember exactly where we left off. But as far as frame rate, we're pretty consistently at 30. The most important thing for us really was making sure that that experience when you're playing with all of your friends and you're in a big open world and there's a lot of chaos going on that you're not gonna lose performance there. We are an online game – the whole point is to have that social connection, that experience with all of the people playing alongside of you, so that definitely took precedent. However, I don't think we sacrificed much in terms of the way it looks. It's just absolutely gorgeous.
Leave a Reply