[Interview] Inti Creates on Azure Striker Gunvolt 3, Switch support, more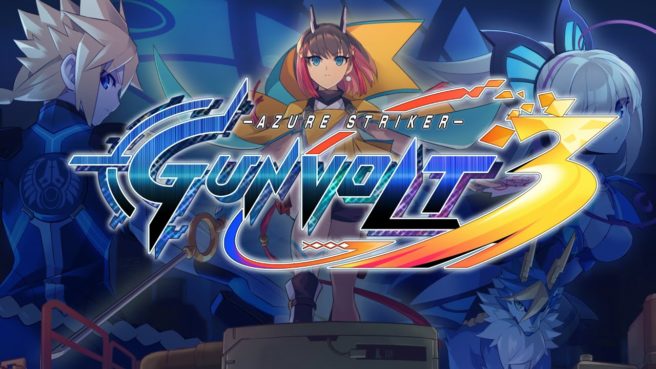 Azure Striker Gunvolt got its start on 3DS where the series saw two games. Inti Creates is now continuing the story with Azure Striker Gunvolt 3, which seems to be set for release in 2021 on Switch.
Inti Creates has mostly kept quiet after the initial reveal this past summer, but we're dying to hear more. And so we spoke with the company's CEO, Takuya Aizu, who commented on the game in general, how long it's been in the works, and more. Additionally, outside of Azure Striker Gunvolt 3, Aizu as well as Inti Creates producer Matt Papa spoke about Gunvolt Chronicles: Luminous Avenger iX, Blaster Master Zero 2's Kanna Raising Simulator DLC, the future of Dragon Marked for Death, and the company's support for Switch.
Our full discussion can be read below.
Aside from Bloodstained: Curse of the Moon 2, Inti Creates recently announced Azure Striker Gunvolt 3. What can fans of the series expect from that game?

Aizu: Director Yoshihisa Tsuda and Action Supervisor Keiji Inafune are working together to create a game with fresh and exciting action. They are planning on introducing a "never-before-seen" gameplay style with the new character, Kirin, so please look forward to her reveal. If it turns out that the action is not so "never-before-seen," well, that just means that the action was already excellent and they will work to make Gunvolt 3 the optimal game for that action. I have faith they will create a game that feels amazing to play.

Azure Striker Gunvolt 3 is introducing Kirin as a new character. What was the inspiration behind her inclusion in the game?

Aizu: Kirin will be key for both the game's new story, and new action. The plan for Gunvolt 3 is to star Kirin as the protagonist. This is about as much as I can say about the game's story right now, though. My apologies.

We know that Azure Striker Gunvolt 3 is early on in development, but how long has the game actually been in the works?

Aizu: The game was officially announced since June 27, 2020. However, development began several months earlier, and the process has been even longer still. I would say we didn't even have any ideas for it as of Christmas 2019.

How does Inti Creates feel about the performance of Gunvolt Chronicles: Luminous Avenger iX? Is Gunvolt Chronicles something the company could return to in the future?

Aizu: We are satisfied with the sales of Luminous Avenger iX. As a primarily digital title, we have seen its sales continue to grow even long after release and expect it to continue to sell. In order to grow the fanbase for our games, we always need to be producing new content; we will continue to evaluate the possibility of a sequel.

The announcement and release of Blaster Master Zero 2's new Kanna Raising Simulator definitely came as a surprise. How did the DLC come to be, including Cristina Vee voicing the role of Kanna?

Papa: I think it's no secret that Kanna is the internet's favorite character from Blaster Master Zero 2, and being the strange, but fun character that she is, the team wanted to make something enjoyable and unique that captured the spirit of Kanna. I think they hit the nail on the head, and it allowed some of our artists to come up with some truly wild character designs under the whole Kanna umbrella. As for working with Cristina, I was introduced to her through a mutual friend, and being familiar with her work, I thought she would be a great fit for a character like Kanna. Cristina was an absolute joy to work with, and I think it goes without saying that she did a fantastic job breathing life into this character. Her yelling "EXCITING!" in the trailer still gets me every time.

It's been over a year and a half since Dragon Marked for Death launch on Switch, but the game has still been receiving updates. Does Inti Creates have any additional, extensive plans for the game in the future?

Papa: I can't speak to specifics at this point, but I can tell that we are not quite finished with DMFD updates! Or most recent update, ver. 3.1, added lots of new end-game content, balancing updates for the characters, especially the Bandit and Oracle, and a lot more. Stay tuned for future news about DMFD!

Aside from Azure Striker Gunvolt 3, is Inti Creates working on any other brand new projects currently? What can Switch owners expect from the studio in the future?

Papa: We are in the middle of getting preparations done for a number of different projects. We are not a gigantic studio, so that means our resources are limited and it may be quite a while before some of these projects are revealed to the public, but I can assure that the gears are always turning here at Inti Creates and our creators are always coming up with new ideas. As far as the Nintendo Switch goes, we've been developing games that are built to run on Nintendo hardware since as far back as the Game Boy Advance era. I think Nintendo users make up the biggest group of people that know about Inti Creates and our IPs, so make no mistake that we will continue to release games on Nintendo hardware going forward.
---
We also spoke quite a bit with Inti Creates about Bloodstained: Curse of the Moon 2. In case you missed it, you can catch up on our discussion here.
Leave a Reply