[Interview] Outright Games on bringing Zoids Wild: Blast Unleashed to the west, possibility of localizing Infinity Blast, more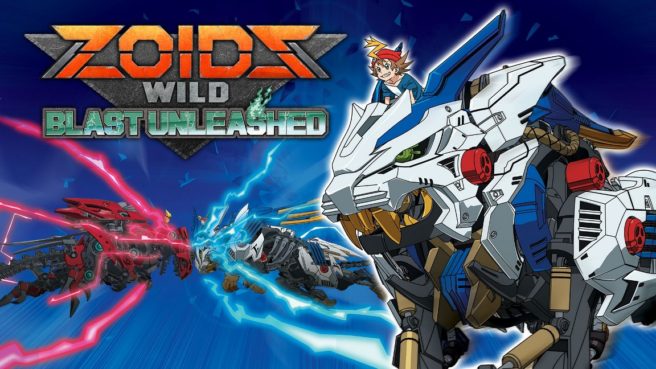 Zoids Wild: King of Blast, the first Zoids game to appear on Switch, made it to Japan last February. More than a year later, it's finally heading west. Outright Games partnered with Takara Tomy to release the title in North America and Europe.
Ahead of the upcoming overseas launch, Nintendo Everything was able to speak with producer manager Esteban Belmonte and Outright Games US CEO Kathy Bucklin about Zoids Wild: Blast Unleashed. We learned more about what it's been like getting it ready for the western launch, asked about the possibility of localizing the recently-announced Zoids Wild: Infinity Blast, and more.
Here's our full discussion:
Will there be any sort of changes for the western version compared to the Japanese original?

Belmonte: Especially with the names of the characters and the Zoids, there are a few changes, but that's because the licencor – Takara Tomy – requested to change it. We knew that we wanted to put all the names in English because that's the way I saw on the forums that people really used to call the characters. They know Arashi is Arashi and everybody knows Arashi because it's a longtime character and white Liger is another one. But you can see for example, Zaber Fang with Quade has a different name in Japan with Fang Tiger for example. But in America, people know it as Saber Fang.

It was me spending many hours looking through forums, how everybody is speaking about every character, ensuring the translation is correct, and things like that. I'm trying to do my best on this, and I'm feeling like it's working, but we'll see when the launch happens.

Zoids Wild: Infinity Blast was recently announced for Switch in Japan. Does Outright Games view that title as a possibility for localization as well?

Belmonte: That's something many people are asking me about, and I understand because it was announced a few weeks ago that Zoids Wild: Infinity Blast – that's the name – is a game that's going to be released in Japan. We are not touching this game at the moment. We don't know anything about it. There is no information at our disposal. I believe it's going to work like a sequel to this game, but I don't know. That's something I found out about, but there is no information at the moment for us.

Here at Outright Games, we have this approach which is amazing. It could be amazing especially for me to work on the new title. It's only going to be released in Japan at the moment, but I would be so happy to bring it to the western market if it's possible. But I guess it will depend on the success of this first game. If we succeed with Zoids Wild: Blast Unleashed, there will be possibilities to try, but that's something I'm thinking about. I don't know yet because we didn't actually know about this other game.

With a property like this, there must have been a lot of care that went into making sure you got it right as to revive the old fan-base but of course expand into new ones for a bright future and a resurgence of Zoids, so what went into the philosophy of how to handle the game?

Belmonte: You need to have a balance while working on this video game – taking care of this brand. I know that there are a lot of Zoids fans that are waiting for this game because it was released one year ago (in Japan). And they really want to play this game – they really want to have it localized in English especially, and also in Spanish I feel and French. They really want it, and if you give the game just like they want, they'll be happy, but there's also a lot of people that want fighting games and anime games and there are also kids.

It's nice to see that kids know things about Zoids because of the toys for example. It's like more than 40 million toys sold around the world – a lot of toys. We wanted to have a balance between adults, nostalgic Zoids fans, fighting fans, and kids. We want to make people understand that this game is for everyone, especially for kids and Zoids fans. But if you love fighting video games, you can enjoy this game. If you want Mortal Kombat with fatalities, it's not the same, but probably you aren't this kind of fan.

Eighting originally released Zoids Wild: Blast Unleashed in Japan last year. How did Outright Games end up securing the game for western release?

Bucklin: Takara-Tomy was looking for a partner with experience releasing kids' titles in the western market and that fits Outright games perfectly, so this launch comes from the successful partnership between Tomy and Outright Games.

Codeglue is said to be involved with development of the western version. Can you talk more about that partnership and the work that's being done for the release in North America and Europe?

Bucklin: Codeglue has done an excellent job managing the localization for the title, ensuring it is perfectly translated for key countries in mainland Europe and Latin Spanish to ensure a strong release in the West.

The last real Zoids title that was localized was Zoids Assault (Zoids Alternative in Japan) well over a decade ago. Has there been any pressure in delivering an authentic experience to provide a healthy outlook for Zoids games going forward?

Bucklin: We knew that it's been a long time since Tomy last launched a Zoids video game in the western market, so the expectation around a new title will be very important. Looking at Zoids games across the years we understood that bringing this fantastic title to the western market required a deep level of attention for the localization and to ensure the full roster of characters and content was included. The Japanese release included DLC with 6 new characters and new sections of the game, so we wanted to make sure this was all included and fans were happy with the amazing experience of battling these beautiful mechas.

Does Outright Games have interest in working with the Zoids brand further on brand new games outside of localizations?

Bucklin: It would be a huge pleasure for us to work with this fantastic brand in the future. There's a nice community of fans that loves Zoids and, we feel, especially love these giant robots.

What else would you like fans to know about Zoids Wild: Blast Unleashed?

Bucklin: This is the Zoids Game you all have been waiting for. Epic battles, a large roster of Zoids from Team Freedom, Team Supreme and the Dark Metal empire. The graphics are faithful to the TV Show and you will discover a new subspecies of Zoids in the fantastic Story Mode. It's time to unleash your power!
Leave a Reply