[Interview] Shin'en on why FAST RMX was made for Switch, next game will be "quite different", more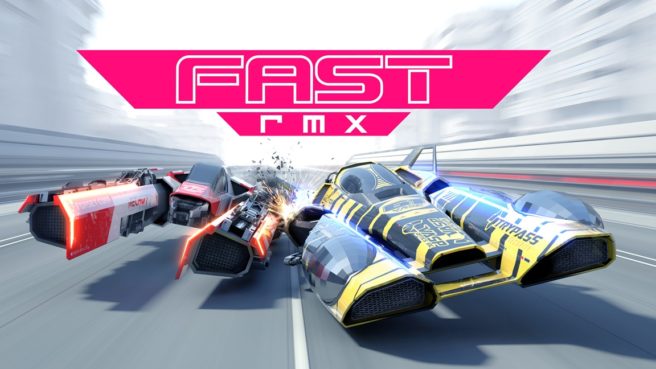 Announced last month, FAST RMX is receiving a new update in September. Players can look forward to a new wave of cups and tracks.
Since new content is coming to FAST RMX very soon, it was no better time for us than now to speak with developer Shin'en about the game. We talked with the studio's Manfred Linzner about the Switch title and more during our discussion.
We first asked how Shin'en decided on delivering FAST RMX as its first Switch game. Linzner told us the following regarding why it made sense to revisit the title, which is a souped-up version of the Wii U original with new content and improvements:
"FAST Racing Neo was a big hit on Wii U. Nintendo Europe even acquired the distribution rights from us for a retail release. So when we learned about the Nintendo Switch we of course got asked by Nintendo what game we would like to create first for it. The decision was easy, because a FAST version for Switch would be a perfect fit for the hardware. Stuff like the HD Rumble or the multiplayer aspects simply begged for a FAST game."
Something fans have shown interest in is a retail release of FAST RMX. But unfortunately, Linzner said "there is no physical version planned" at the moment.
We're starting to see some success stories on the Switch eShop. Kamiko, for instance, is confirmed to have sold over 100,000 copies. Linzner mentioned that Shin'en doesn't publish sales numbers, "but we were on top spots of the sales chart on the eShop for quite some time. You can compare it to Kamiko chart placing to get a better idea" regarding FAST RMX's performance.
Something we also brought up is how the Switch eShop is starting to become slightly more crowded, often with high-quality games releasing each week. Just recently, the digital store surpassed 100 titles being sold. Early on, however, there were just a few games available. We asked how beneficial that early visibility was for FAST RMX, to which Linzner replied:
"Having a game on launch of a console is of course always nice. However, nowadays only great games really find their market, no matter if launch game or not. Everyone today can learn the details the wish about a game before buying. So we think the biggest plus of FAST RMX was simply that people loved it. Therefore we still have nice sales for the game. Also our updates certainly help to keep the game popular for the future."
Moving away from FAST RMX, we asked if Shin'en has considered porting over some of its older games to Switch such as Nano Assault or Art of Balance. Regarding this, Linzner said:
"Most emails we get ask especially for Art of Balance on Switch. That game was a huge hit, especially on Nintendo 3DS and also in Japan. Anyway, if we do ports of our games for the Switch they will always be tailor made for that hardware, not just simple ports."
Aside from the likes of Nano Assault and Art of Balance, Shin'en also developed a fan-favorite franchise of sorts in the form of Jett Rocket. Here's what Linzner shared when asked if the company has any interest in continuing the series, potentially on Switch:
"We know, many people love Jett Rocket, also the free roaming WiiWare game. However, we currently have nothing to announce for this franchise."
As a console matures, we've sometimes seen developers able to extract more power out of the hardware. Since Shin'en is more familiar with Switch, we asked if Manfred believes there is more the team can do with the system. We were told: "We already learned in the 80's that imagination is the only limit on any hardware. That's still valid."
We can't deny that Shin'en has accomplished some incredible work, despite having a small team. Shin'en has operated this way for many years, and that's unlikely to change anytime soon. Linzner told us that the team has no plans to expand, explaining:
"We rather want to achieve more with better ideas than by adding more manpower. This worked quite nicely since the late 90's for Shin'en. Also we enjoy having a life besides the making of games, and that's so much easier when you only have to run a small company."
Our interview wouldn't have been complete if we didn't ask about the next game from Shin'en. We heard back in March that the company was working on a new title for Switch. Interestingly, Linzner said that Shin'en was working on that project even before FAST RMX. Linzner wouldn't divulge any details, but did leave us with this interesting tease: "It's quite different to anything we have done before. Stay tuned!"
Leave a Reply