[Interview] Sports Story dev on improvements from Golf Story, fishing, new activities, and more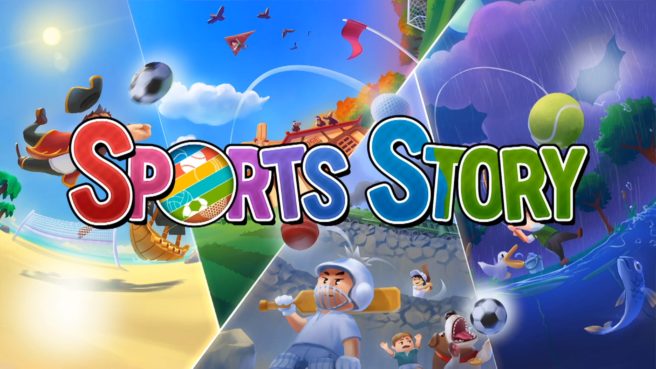 One of the big announcements coming out of the last Indie World Showcase was Sports Story. Building off of the highly successful Golf Story, Sidebar Games' next project will have even more sports and activities to do such as dungeon exploring and fishing.
We recently caught up with developer Andrew Newey to learn more about what to expect from Sports Story. We have information on improvements that have been made following feedback from Golf Story, how fishing will play out, and tidbits on "stealthy infiltrations". Newey also teased something like GALF for the new game, multiplayer support, a possible physical version, and more.
Here's our full discussion:
What was behind the decision to make a direct follow-up to Golf Story? Was it just a matter of how successful the first game was?

We had other plans in the works but the idea of a sports RPG with more than one sport lent itself to many ideas that made it too tempting to pass up.

How long has Sports Story been in development?

It has been about 1 year now since we started production.

Golf Story was created by a pretty small team. Has the team expanded in size at all for the sequel?

We've been able to hire more artists and really expand our options for content. There are endless sporting animations, and the environments have many more unique objects.

Were there any particular lessons learned or feedback received from Golf Story that the team has considered while making Sports Story?

We got a lot of feedback about things people did and didn't like about the game. People have said they'd like a minimap in golf, so we're trying to get that in. Disc golf was a point of contention so we probably won't do that again. We've taken a lot of things into consideration while working on this game.

One of the new features we saw in the trailer are dungeons. What can fans expect from those, and how will they work?

Various sporting abilities are used to progress through the dungeon. We wanted to create different scenarios to incorporate sports and this is one of the ways it manifested.

Fishing is another aspect of Sports Story's gameplay. What can players expect from it?

It's exploration based fishing where you figure out how to catch different fish species. They appear under different circumstances, and it will require a keen angler to catch them all. Equipment, weather, items and circumstances all play a part.

We're also curious about those "stealthy infiltrations". Is there anything you can share about that element of Sports Story?

These are one of many situations the player finds himself in. They also involve sports, as most things in the game do. We wanted more ways to feature the story side of Sports Story.

Will multiplayer be back in Sports Story? If so, will it be essentially like the first game or has it expanded/changed in scope?

We have some ideas for multiplayer but we don't want to present them too early so more will be revealed later.

Are there plans to include anything like Golf Story's GALF in Sports Story?

Yes, but it's not what you think and nobody will see it coming.

Thanks to a partnership with Limited Run Games, Golf Story was able to receive a physical release. Are you hoping to offer a boxed copy for Sports Story as well?

We would love to do it. I myself am a collector of our games so I'd love to have it in the collection.

Many games tend to go multiplatform, but Golf Story and Sports Story are Switch exclusives. Why has Sidebar ultimately decided to stick with a single system?

Since we only released on the Switch, all Golf Story fans are Switch owners so it seemed a good choice to stick with that. And we think this kind of game is well suited to Switch.

What was it like working with Nintendo on the announcement of Sports Story and having it showcased in the Indie World Showcase?

We try to be professional in our dealings with Nintendo which is difficult because we aren't. So far we seem to be getting away with it. We wanted to reveal the game in an official Nintendo presentation, so we were happy when we got the opportunity.

Is there anything else you'd like to say about Sports Story to fans that are anticipating the game?

Please look forward to further information and reveals. We hope to surprise you with how much we've put into this game.
Leave a Reply