[Interview] Sumo Digital shares more details about Snake Pass, talks Switch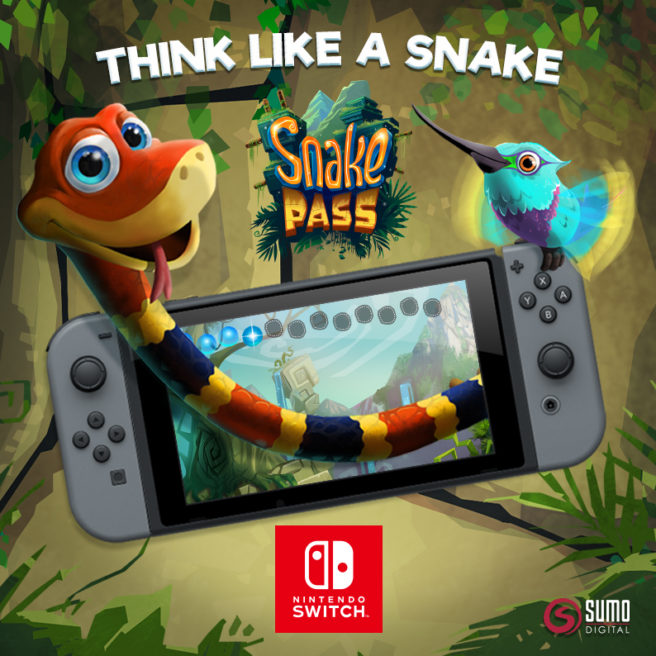 Sumo Digital has a new 3D platformer heading to Switch very soon. At the end of March, Snake Pass will be showing up on the eShop.
We caught up with Sumo Digital this month to learn more about Snake Pass. The team spoke to us about its inspirations, Doodle the Hummingbird sidekick, game length, and more. Sumo also had a bit to say about bringing Snake Pass to Switch.
For our full interview, continue on below.
If someone has never heard about Snake Pass until now, how would you describe it?
Snake Pass is a 3D physics-based platformer where players are challenged to 'think like a snake'. Unlike traditional platformers where you would run and jump, players must slither, curl, twist and stretch Noodle the Snake using the game's 'snake-physics' to hunt down Keystones, open mystical gates and solve puzzles!
Were there any games, especially Nintendo-related ones, which inspired Snake Pass?
Of course, the entire team love games like Banjo Kazooie, Ratchet and Clank, Jak and Daxter etc. and a big part of the thought behind the game is kind of a love letter to those colourful, collectable-laden romps that kept us busy until the small hours when we were kids (or, in my case, adult). so these connections and influences, while there, weren't really in the forefront of our minds when Snake Pass came to be.
The whole team are big Nintendo fans so it's hard not to use those games as touchstones during development. Rather than any one game, the discussion was more about that Nintendo 'feel' – the tactility of the controls, the movement of the character, the vibrancy of the world Noodle and Doodle inhabit. If you asked each member of the team for their favourite Nintendo game, every person would give you a different answer. Seb (Liese, Designer) is a huge fan of the N64 Rare games, which I think comes through in the finished product in lots of ways but doesn't bash you over the head with it.
The art style shifted a bit between the old gameplay trailer and its current look. How many changes did the game make overall? Any ideas cut that you would like to return to?
It's difficult to put a number on the changes that have been throughout development, but the progression has been amazing. The concept for the game started out as a rope and from then metamorphosed into the slick snake that Noodle is today. Looking back at the demo we showcased at EGX Rezzed last year to the latest PlayStation Experience demo in December it's incredible, even to us, how far the game has come in such a short time. Not just in graphical style but also in design.
As for stuff we'd like to return to… I think there are always things you'd like to go back to as a developer, if we're lucky enough to do a sequel we'll certainly be looking at those ideas as a starting point.
How exactly will Doodle the Hummingbird help Noodle on his quest? Can we expect to see a lot of interaction between the two characters?
Without giving too much away, Doodle is Noodle's best friend. The kind that immediately know what the other is thinking. It's an unlikely, but mutually beneficial friendship. Noodle keeps Doodle safe from predators simply by virtue of being a snake and Doodle does all the talking and gives Noodle a lift – while Doodle is small, he can lift Noodle's tail out of danger – this is much more helpful than it sounds!
Can you tell us more about the music? Will it all be marimba-inspired? Who is composing the game's soundtrack?
We've just announced that legendary ex-Rare Composer, David Wise has created the Snake Pass soundtrack. Having previously worked on Donkey Kong Country Series, Diddy Kong Racing and Starfox Adventures he was the perfect fit for Snake Pass and a dream come true for Seb!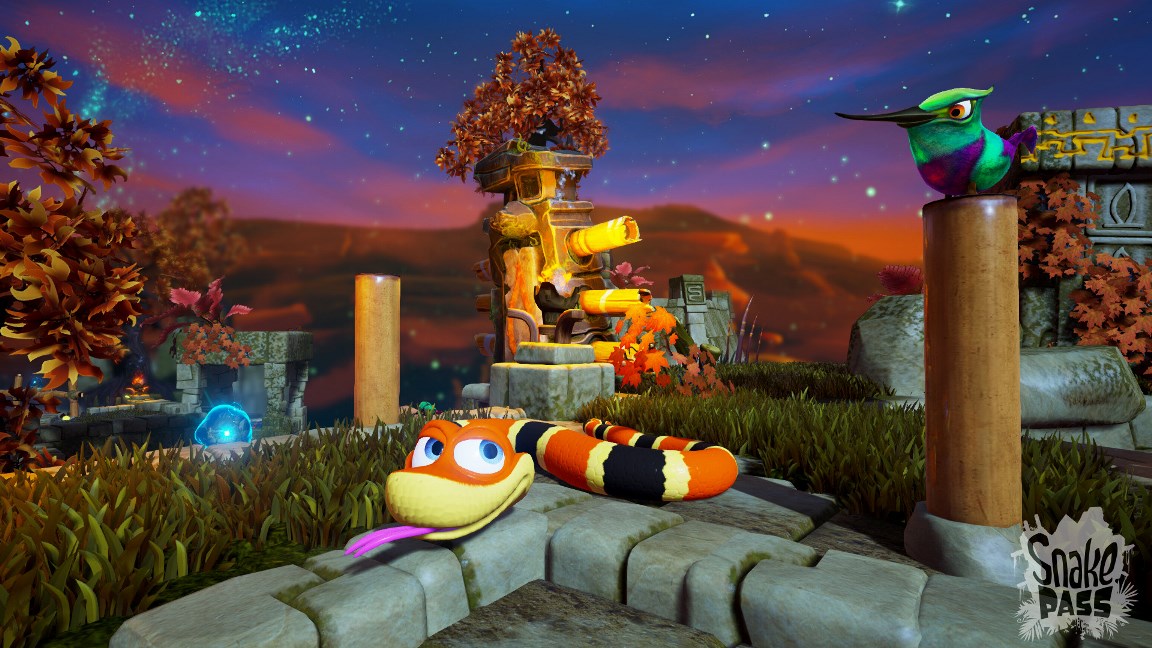 How long do you estimate it taking players to complete the game?
To collect everything it's going to take quite a long time, about 8-10 hours. There are also some cool unlocks to discover!
At what point did Sumo Digital begin to consider Snake Pass for Switch?
Everyone on the team is really excited to be working on the Nintendo Switch version of this game. Very early on it became apparent to us that Snake Pass would be a great fit for a Nintendo platform so the timing of the Switch is perfect for us. Being able to take Snake Pass on the go with you is just too good an opportunity to pass up!
Besides the ability to take the game on the go, can we expect to see any of the Switch's other unique aspects, such as motion controls or HD Rumble?
At the moment, we are focusing on getting the game polished on Switch – we've only been working on it for just over a month and want to make sure it comes out on Switch at the same time as the other formats. So our focus has been on performance and we haven't been able to take advantage of the full set of Switch only features, however, the game does support gaming on the go with TV, Tabletop and Handheld mode. It's pretty cool.
Snake Pass is made with Unreal Engine 4, which Switch supports. Has the compatibility there been the key to having it running quickly and smoothly on Nintendo's platform?
Yes, the Switch supports Unreal Engine 4 very well and it allowed us to have the game up and running quickly!
Any last thoughts you'd like to share about Snake Pass or Sumo Digital in general?
The game will be out March 28th in NA and March 29th EU this year and available on PS4, Xbox One, Steam and Nintendo Switch. We have a few exciting announcements coming up in the next couple of weeks so stay tuned to our social channels, and make sure you pick up the game when it's out! Also, don't forget to tell us what you think, we'd love to hear from you!
Facebook /SnakePassGame
Twitter @Snake-Pass
Website http://www.snake-pass.com
We also have a Snake Pass Live Stream every Thursday 5pm GMT on Twitch tv/snakepass
---
We would like to extend its thanks to Sumo Digital for taking the time to answer our questions.
Leave a Reply