[Interview] Swery on Deadly Premonition 2 – returning to the series, future, more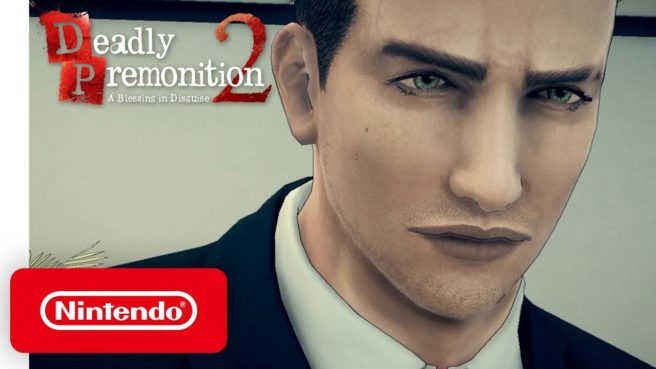 Prior to the launch of Deadly Premonition 2, Nintendo Everything was able to speak with director Hidetaka Suehiro. We wanted to ask about returning to the IP, what lies ahead for the future, and more. Swery also spoke about his approach to development when it comes to Deadly Premonition, and the importance of the story.
You can read up on our full discussion all about Deadly Premonition below.
It's been ten years since the original Deadly Premonition, so the franchise has been dormant for quite some time. What was behind the decision to create a new entry in the series and when did development begin?

It's been a decade since the original, but the franchise continued through things like the Director's Cut, the Collector's Edition, and the board game. There was always a chance for me to create a new installment, but life is more difficult than it seems, so it took ten years for the sequel to finally go on sale. The development started at the beginning of 2017, if I remember correctly.

Deadly Premonition hadn't been associated with Nintendo platforms until recently, so how did the sequel end up as a Switch exclusive?

This may seem different from how you imagine it, but the director of a game has no say in what platforms a game is released on. That is decided upon by the producer and more 'important' (LOL) people. All I can say is that: "Platform doesn't matter to me – all I care about is whether or not I have a chance to make a game. This time, I got the chance to make DP2 on the Switch. How could I say no to that?!"

How has it been working with Toybox on development?

I've known the producer, Tomio Kanazawa, since working on DP1. We know what we both like and what we both think is a pain in the butt, so just like before, we fought a lot as we worked on the game. But in the end, it was fun.

Were there any specific gameplay elements you set out to change or improve upon from the original for Deadly Premonition 2?

I was finally able to add the 'perfume' element which I hadn't been able to add last time!

You're known for your love of film. In Deadly Premonition, York often talks to Zach about his love of film while driving around Greenvale. What films were you inspired by during the making of Deadly Premonition 2?

I've been so busy for these past few years that I've only been able to watch about 30 new movies, but each one of them inspired me.

Are there any unused game mechanics or story beats from the first Deadly Premonition or other games that have found their way into Deadly Premonition 2?

No. I used up all my ideas from the last decade in the last decade.

You're well known for your strong and relatable character writing. What characters are you excited for players to experience in Deadly Premonition 2?

There's a lot to experience in the story of DP2. Players should be excited to hear more light-hearted York conversations, and should be interested to see how Zach's life has gone after the Greenvale case. You'll get to travel around the town of Le Carré with a cute little partner this time, and I took great pains to depict everyone who's related to the dominating family in town, the Clarksons, in a careful manner. (I read a lot of things and listened to a lot of people) And that's not all… in the Boston part of the story, you'll get to meet a brand new main character: Aaliyah Davis…. Anyway, I just hope people get to see it all and fall in love with the characters.

For the first Deadly Premonition's game design, information about the next story beat or challenge was intentionally divulged to the player before they were finished with their current challenge, generating a desire to find out what happens next. How has this game design philosophy carried over to Deadly Premonition 2, and what kind of game design approach did you use in Deadly Premonition 2?

I think DP2 is the same sort of beast. When each episode ends, you'll still get a meaningful scene about the next story beat, so I hope you enjoy it.

The first game had a unique way of telling its story and it sounds like Deadly Premonition 2, being both a prequel and a sequel, will also have a unique approach. Could you tell us more about what inspired you to tell stories in this manner, and why don't we see more risks in story-telling in video games?

Some people say that gameplay is the central feature, and that story elements are just 'extra.'
I don't think that way. I think that what you need to put into a certain game depends on what kind of a game it is. For Deadly Premonition, I chose storytelling as the most fitting element, which forced me to write a complicated plot centered around extreme themes. And I think it was worth writing.

Now that Deadly Premonition has achieved cult status, and given that players can expect the unorthodox tone from the original, how do you think (or hope) players and critics will react to Deadly Premonition 2?

Critics? Who cares how they react????

There are often auto-biographical elements in your work – things that relate to your own life experiences, turned into story elements or themes. Is there anything like that in Deadly Premonition 2?

Of course. It's filled with influence from when I went to do research in Louisiana, as well as experience from my own life.

What can fans expect from the future of Deadly Premonition? Are you interested in spin-offs or additional sequels?

I will definitely take the chance if it arises. But right now, I simply want to celebrate the fact that I've been able to release a sequel after 10 years, something I didn't even expect to get the chance to do.
Leave a Reply