[Interview] Inti Creates on Luminous Avenger IX, working with Switch, future plans, and more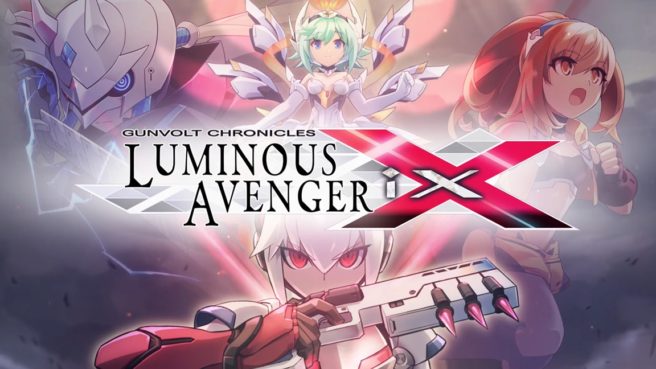 Coming back to Gunvolt Chronicles, another thing that fans are eager to hear about: a physical release has been announced for Japan, however it seems to be digital-only so far in the west. Inti Creates has previously hinted that this could change through a collaboration with Limited Run Games. So with respect to that, were you able to talk with Limited Run at BitSummit at all, and furthermore, do you think that a boxed copy could realistically happen outside of Japan?

As you may know, for us in Japan and the Asia region, we as Inti Creates ourselves can publish our own games. We do it by ourselves, for ourselves, we decide everything – that's all taken care of by us. And as you may have seen with our releases in the west, we have to work with another publishing partner to release a game. We have to. Obviously it creates more hurdles and more difficulties to make the release.

As far as if we've talked to Limited Run, we did not get to talk to them about this specifically at BitSummit just because we were both so busy, but I guess the next chance to do that would be E3. (laughs) We do have plans to talk with them here at E3, but because it's still kind of early in the E3 cycle, we have not met with them yet, but we are going to.

In regards to the future of this series, where do you go next? Do you foresee Azure Striker Gunvolt 3 happening at some point in the future? Or could Azure Striker Gunvolt and Gunvolt Chronicles exist side-by-side as their own separate series of sorts?

For the future of the Gunvolt series as a whole, the main Gunvolt series – 1, 2, and now we have Luminous Avenger IX – they're separate series, so they can indeed continue to exist on their own. If you look at the series themselves, Luminous Avenger IX or the IX series or whatever you want to call it, the director for the IX series is a guy named Toshiaki Tai, who was the scenario writer and planner on the main Gunvolt series, and of course the main Gunvolt series is directed by Yoshihisa Tsuda, so they're now each in charge of their own series. You basically have IX – the one Tai's directing – and the main series Tsuda is directing. Of course, with Gunvolt 3, we don't have anything at this point in time because Yoshida-san hasn't gotten able to make anything yet. He keeps saying he's going to make it, but we're not quite there just yet with Gunvolt 3. But he said he's going to do it.

Moving on from the Gunvolt series, we wanted to ask about some other games in the Inti Creates family. During a Nindies Showcase earlier this year, you surprised and delighted fans by announcing and immediately releasing Blaster Master Zero 2. What was the process like of getting a brand new game like that ready for the presentation, launching it right after its reveal, and keeping it a secret all the while?

First thing's first, if you're going to release a game on a Nintendo platform, if at all possible you always want to be able to get your game announced on either a Nintendo Direct or a Nindies Direct or have Nintendo's official social media kind of back up your announcement with doing it on like their Twitter and Facebook and stuff like that. So when you're planning to release a game on a Nintendo platform, that is always something you want to aim for.

As you may remember, the original Blaster Master announcement was a launch-day title in Japan, and less than a week after launch for North America. When it comes to announcing the sequel, once we learned there was going to be a possibility of a Direct happening in March for basically the two-year anniversary of the Switch and by proxy Blaster Master Zero, we thought, "Oh man, it would be so cool to announce and release the next game in the Blaster Master series for the two-year anniversary." But you know, if you're going to get the support of having this in the Direct, you basically would have to announce it and release it pretty much at the same time.

Can you discuss how Blaster Master Zero 2 has sold on Switch?

If you look at how Blaster Mater Zero 1 went, when that game came out there was a very small amount of users on the Switch, so sales were kind of like a slow progress, and then of course we released DLC for Blaster Master Zero 1, so that continued to kind of make a slow upward trend for that. Obviously if you compare it to the sales of Blaster Master Zero 1 which has been out for over two years, obviously it does not quite have the amount of sales it does yet, but it's kind of trending in the same way that Blaster Master Zero 1 has at this point in time.

Are there any plans for DLC for Blaster Master Zero 2?

How things work at Inti Creates and maybe this is a little different from other studios, the way we decide if we're going to decide if we're going to do something like DLC, it's not a decision that comes from management that goes to the team and says, "Hey, you gotta make this DLC." If the team itself and particularly the director says, "I really want to make this DLC. I really want to do this thing. I really want to do that." – that's where a lot of our decisions come from. Basically, it's from the team up, not so much from the top down. If the team decides, "Hey, we really want to do this really cool DLC," then we'll find the most appropriate time and place to make that announcement.

Given the success of the Blaster Master Zero titles, could we see Inti Creates team up with Sunsoft again in the future on another IP revival?

I definitely think it is a possibility for sure. Again, this kind of goes back to what we were saying before, a lot of those decisions would come from if some our staff – particularly our directors – say, "Hey, I really want to make a game using X Sunsoft IP or Y Sunsoft IP." Then I as the producer would be able to go to Sunsoft and say, "Hey, we want to do this game. What do you think?" and kind of do that negotiation part. Is it possible? Yes. And then, it would really come down to if one of our directors wants to make a game using a Sunsoft IP. That would be the first step in something like that.

Another game Inti Creates has been supporting is Dragon Marked for Death. There have been pretty regular updates to keep things fresh; how long do you anticipate these updates and patches to continue?

At this point right now, we have a mid-sized update that we are working on that we are pretty dang close to being able to announce, so you can definitely look for this mid-sized update that we've got working on in the very near future. As for a very big update that we have planned with new playable characters and things of that nature, I guess all I can say at this point is that we would love to be able to get that out while it's still hot outside.

And can you discuss how Dragon Marked for Death has sold on Switch?

We were actually gonna announce this when we put out that mid-sized update I was talking about – the one that's coming soon – but it has sold well enough for us to be able to want to talk about it in an update, and thank the players for their support if that makes any sense. You can look forward to that soon. For us at Inti Creates, we do consider it so far to be a successful title.

Inti Creates usually works on several projects at once, and we do know that Gunvolt Chronicles is scheduled to release in just a few months. Is there anything you can tease regarding games fans can expect in the future?

Right now we have of course the Dragon Marked for Death updates that we just mentioned. Of course we've got IX. In addition to that, we have like two other titles that we are currently working on, one of which is shaping up to be a multiplatform release, and one I would say at this point the most likely situation would be a Switch exclusive. And then of course as we mentioned before, we have – although he hasn't really done anything on it yet – we of course have Gunvolt 3 that Tsuda-san is thinking about in his head, so I guess that would technically make three other things that we are working on in addition to the Dragon updates and IX of course.

And, of course, finally: do you have anything else you would like to say specifically to the Nintendo audience who are such big fans of Inti Creates' games?

For us at Inti Creates, one of the things that we really love – one of the biggest things that we love about creating games and just the idea behind games – is being able to have the access to games at all times. We've been developing games for the Nintendo Switch, Nintendo 3DS, Nintendo DS, Game Boy Advance. We love the idea of being able to create games on a portable system that you can always have at the ready and access at anytime, anywhere. We love that aspect of game development, so you can continue to expect our support for the Nintendo Switch going forward without fail. That much we can say.
Leave a Reply