LEGO 2K Drive official announcement, debut trailer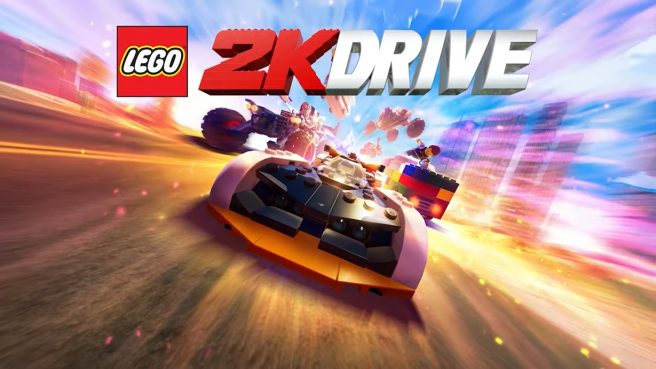 Following yesterday's reveal of LEGO 2K Drive, the official announcement has been shared with even more details. We also have the first trailer with a glimpse at gameplay.
Here's the press release in full:
Today, 2K and the LEGO Group announced LEGO 2K Drive, the ultimate AAA driving adventure game, available worldwide on May 19, 2023. Developed by Visual Concepts, LEGO 2K Drive evolves the iconic LEGO play experience with a vast, open world where players can build any vehicle, drive anywhere and become a LEGO racing legend.

LEGO 2K Drive will be the first release in a multi-title partnership between 2K and the LEGO Group to develop AAA LEGO games. With 2K's proven expertise in creating high quality and engaging interactive entertainment properties and the LEGO Group's unprecedented cultural impact, the partnership will evolve the iconic LEGO games experience fans know and love in exciting new ways.

A world-class team at Visual Concepts with deep experience in the genre will bring AAA quality, depth of gameplay and stunning visuals to a LEGO driving game for the first time. LEGO 2K Drive will combine the best elements of open-world driving and fast-paced competitive racing, while introducing a diverse vehicle customization system.

Additionally, a collaboration with supercar and hypercar company McLaren Automotive will bring the McLaren Solus GT and McLaren F1 LM – just released in a LEGO Speed Champions double-pack set to help celebrate 60 years since McLaren was founded by racer and engineer Bruce McLaren – to the world of Bricklandia, as the cover cars perfectly encapsulate the thrilling, high-octane experience fans can expect in LEGO 2K Drive.

Key features of LEGO 2K Drive include:

A Story in a Vast Open World: Players will journey across Bricklandia's multiple unique biome regions as they compete against a series of charismatic rivals with hopes of one day winning the coveted Sky Cup Trophy. In LEGO 2K Drive, players choose how they want to play, with a wide open world to explore full of racing, minigames, challenges, collectibles, things to destroy, and well-known vehicles from LEGO themes like City, Creator, Speed Champions and more.
High-Octane LEGO Racing: Racing in LEGO 2K Drive is a fast-paced, off-the-wall experience as players battle across a broad range of tracks while taking advantage of unique power-up abilities that can transform a player's standing in the race with the touch of a button.
Unique Customization: LEGO 2K Drive introduces a diverse customization system that allows players to build their own vehicles to suit their tastes, with over 1,000 unique LEGO pieces available over the course of their adventure, in addition to a wealth of color designs, stickers, flairs, and more.
Play Solo or Together: LEGO 2K Drive offers robust co-op and thrilling competitive multiplayer to enjoy with others. Play with family and friends via local, 2-person split-screen or match online with other intrepid racers of similar skill levels.

"Video games have long been an important way our fans experience the magic of the LEGO System-in-Play, and 2K's strong track record of delivering quality, innovative titles for a broad range of audiences makes them the perfect partner to create the next iconic AAA LEGO games," said Remi Marcelli, Head of LEGO GAME. "Beginning with LEGO 2K Drive, we're excited for fans to experience a fresh new take that builds on the LEGO humor and fun fans have come to expect."

"With the history the LEGO brand holds, we were very conscious of the responsibility we had to both our partners and longtime fans of LEGO play, while still thinking about how we can bring something new and unique to a LEGO title," said Greg Thomas, President of Visual Concepts. "For LEGO 2K Drive, we assembled a best-in-class team of game makers who poured their hearts into an unforgettable experience we can't wait to share with fans."

"The LEGO Group is an iconic brand with decades of innovative consumer experiences, and we were thrilled at the opportunity to partner with them as we continue to expand the 2K portfolio to new audiences worldwide," said David Ismailer, President and CEO of 2K. "LEGO 2K Drive is an incredible first step in our multi-title commitment to delivering new, groundbreaking LEGO games."

Three editions of LEGO 2K Drive will be available:

The Standard Edition will be available for $59.99 on Nintendo Switch in both physical and digital formats.
The Awesome Edition will be available for $99.99 and includes a new vehicle, vehicle flair, and an in-game LEGO minifigure. Players will also receive the Year 1 Drive Pass, which will introduce an all-new biome, in addition to four individual post-launch seasons of Drive Pass content, each with new vehicles and themes.
The Awesome Rivals Edition will be available for $119.99 and includes multiple new vehicles, a vehicle flair, and in-game LEGO minifigures. Players will also receive the Year 1 Drive Pass, which will introduce an all-new biome, in addition to four individual post-launch seasons of Drive Pass content, each with new vehicles and themes.

Pre-orders have begun on all platforms, and players who pre-order before launch day will receive the Aquadirt Racer Pack (Digital).
View the first trailer for LEGO 2K Drive below.
LEGO 2K Drive launches physically and digitally for Switch on May 19, 2023.
Leave a Reply