[Let's Talk] E3 2017 hopes and dreams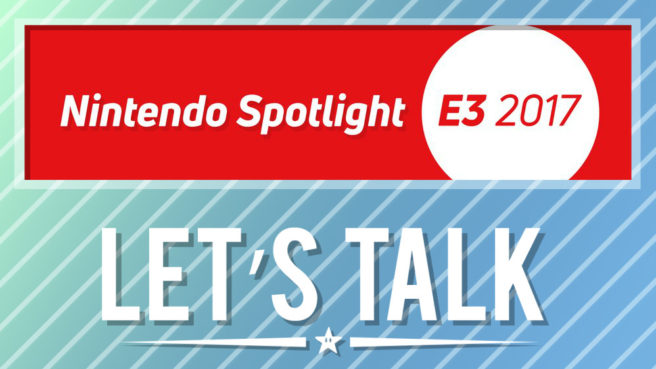 E3 is by far the biggest gaming event of the year. It's true that Nintendo Directs often deliver significant news, but E3 tends to be where the most important announcements and reveals take place – at least across the industry as a whole. All eyes are always on each of the major platform holders to see what they have in store for the months and years ahead.
After a slightly nontraditional – but still successful – E3 in 2016, we're getting a more standard format from Nintendo this time around. Nintendo is returning to video presentations with its broadcast on Tuesday. Treehouse will be back as well for three days of streaming (up from two days last year). And if that wasn't enough, three separate tournaments are happening: one for Splatoon 2, another for ARMS, and a final one for Pokken Tournament DX.
E3 is always where people can dream big. And since we're just a few days out from the expo, we want to hear from all of you. What do you want to see Nintendo announce at E3? What are your realistic expectations, and dreams that are a bit further out there? Even if you simply want to bathe in the hype that is E3, that's fine as well! Be sure to share your thoughts with us below.
Highlights from last week's topic: What are you playing? – June 2017
paul_cus
Lego City Undercover, Has-Been Heroes, and Ultra Street Fighter II.
Vigilante_blade
Fire Emblem Echoes: Shadows of Valentia. This is the most fun I've has playing a Fire Emblem game in years.
Linkchu
I've been playing the magikarp app… It is very depressing when one of your fish gets eaten by a Pidgeotto…
FinalArcadia
Slowly but surely working through FE Echoes while also finishing up replaying the first two Zero Escape games. Then I'll finally be able to move on to Zero Time Dilemma and be free of having to fear spoilers.
Leave a Reply