[Let's Talk] Ideas for Mario Kart Tour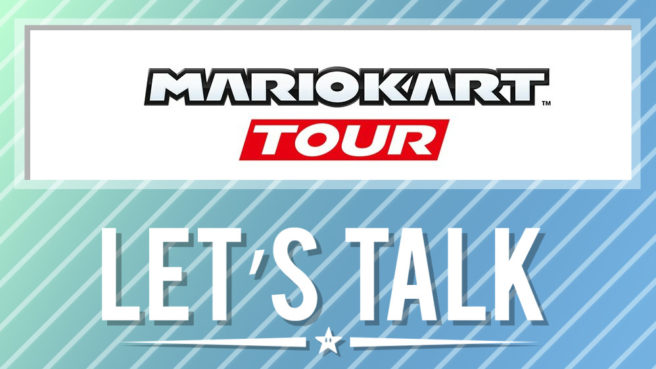 The end of Miitomo was announced last month. But as the sun sets on one Nintendo mobile app, the company is gearing up for something entirely new. Earlier in the week, Mario Kart Tour was revealed for smart devices.
As of now, we know almost nothing about Mario Kart Tour. Literally the only information we have is that it's releasing in the fiscal year ending in March 2019. That's it. Not a single gameplay detail.
That means it's up for us to think about the possibilities for Mario Kart Tour. Will it retain the same basic style of gameplay that we know of in which the perspective is set from behind the racer you're playing as? How will the game play on mobile devices? Who should be on the roster? If you have any thoughts about Mario Kart Tour, be sure to share them with us in the comments below.
Highlights from last week's topic: What are you playing? – January 2018
DrGreenthumb28
Doom, Sonic Mania, and some Odyssey on Switch and Battlefront 2, Battlefield 1, and Steep: Road to the Olympics DLC on PC. Good time to be a gamer.
ben
Mario x Rabbids only just released here in Japan, so I got that.
I am playing Splatoon2, Arms, FE warriors, Bayonetta 1 on PC. Tekken 7, Guilty Gear… I bought a fight stick for the switch in preparation for the fighting games coming to the console. I played some Pokken. Started the DLC quest for Xenoblade 2. Played some more steam world dig… I am playing the kirby wii game with my 6 year old.. I played a few games of PUBG but i dont really have time for it… I played some FE Warriors this week too.
I am also slowly working my way through LA NOIR.
Terrified of the 4 weeks coming up after bayonetta 2 releases on Switch. I have a wallet full of preorders for DQbuilders, Kirby, and The 4 princess Action RPG game from Nihon ichi
47drift
Still playing ARMS just as much as ever. The Party Crash events are always a delight, as I tend to discover new combinations I hadn't thought to try before. Other than that, I've been enjoying DOOM before bed at night. It's a perfect under-the-covers game.
Drybonekoopa85
Currently working on Skyrim, doing the Winterhold Mage quests. Other games I have been working on are Minecraft, Portal Knights, and The Escapists.
Already played through the demo of Dragon Quest Builders and now just waiting until February 9th for DQB release!!!
Leave a Reply