[Let's Talk] Paper Mario: The Origami King reactions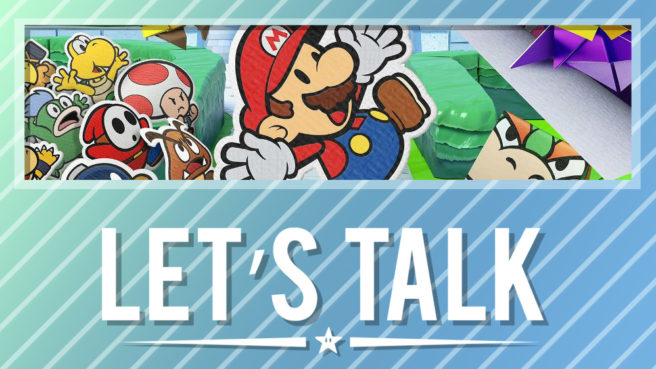 Usually when Nintendo has big, new games to announce, they're unveiled in a Nintendo Direct. That wasn't the case with Paper Mario: The Origami King, however. News about the game's existence was dropped out of nowhere on Thursday without any sort of notice. The status of Nintendo Directs are up in the air due to the coronavirus pandemic, so it seems that announcements may take place at any time.
After the whiplash of Paper Mario's reveal, you quickly come to realize that we're getting a new entry in the series on Switch in just a couple of months. It's a quick turnaround for Nintendo, as it's already slated for July 17.
Several details have been shared about the game so far. You'll be going up against King Olly, who's looking to fold the entire world. Mario can use the 1000-Fold Arms to interact with the landscape by stretching out and pulling, peeling and revealing new locations. Characters will be enlisted throughout the journey, including King Olly's good-natured sister, Olivia, and even Bowser himself. As far as the battle system, which might be the most important aspect, Nintendo says it'll be ring-based in which you "line up scattered enemies and maximize damage."
Based on what we've seen so far, how are you feeling about Paper Mario: The Origami King? Do you plan on picking up the game in July? Let us know in the comments below.
Highlights from last week's topic: What are you playing? – May 2020
R.Z.
I've been mostly Playing La Mulana these days.
I guess I'm done with about 2/3 of the game, judging by my inventory.
I love it, it's hard, cryptic but also very rewarding and creative. I must confess that I wouldn't have gone that far without the wiki, but even finding what to do next with the wiki can be a puzzle, so …
Aside from that I played through Iconoclasts, which was fine, especially the artwork. The level design and the combat though, I can't say I'm a fan.
I also finished Undertale (reached a true pacifist ending). I loved it, but I guess I'm very late to the party and I kinda wish I had gone in blind.
I started playing Deltarune Chapter 1 right afterwards, I'm surprised by how much there is to it seeing as it was free. Especially what I'm thinking of as the post-game, I was expecting credits but then, there was a whole lot, I'm still going through it.
Lastly I picked up Picross S3. At least there's some variety in that one, I wish they had integrated Color Picross a bit better (some Clip Color Picross maybe ?), and made more of these puzzles. I'm kind of clearing everything and doing color puzzles sparcely, so that I have some left for the end.
I think that's it.
TruExtent
I finally played Classic Doom (only made it through episode 1 so far), almost done completing Picross S4 and trying NES and SNES games before my Switch Online trial runs out. Beat River City Ransom, holy crap that was good and I need to get Girls at some point. Finally tried Asphalt 9 and I wasn't expecting it to be as good as it was, might get the starter pack to unlock quick race and split screen quickly.
Oh and I was trying demos I missed on a PS2 Jampack disc. I enjoyed the demo for Steambot Chronicles so much that I went to look up getting a copy. $100+…. Needless to say I won't be owning that game any time soon.
Lance Devon
I actually ran tests on the HD converter for the N64 and tried a few games that aren't likely to be ported anytime soon to modern consoles.
Quest 64 did not age visually well. Game still holds well however.
Leave a Reply