[Let's Talk] Pokemon: Detective Pikachu reactions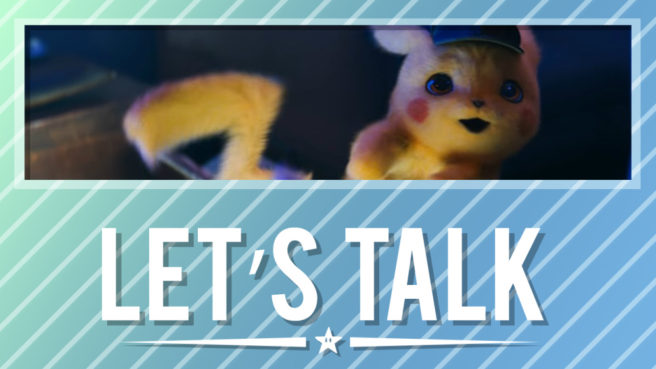 It was over two years ago that the Pokemon: Detective Pikachu movie was first announced. Yet it wasn't until this week that we finally got a look at how the movie is turning out. We finally know how the Pokemon are being depicted, what Ryan Reynolds sounds like as Detective Pikachu, the film's overall tone, and more.
Since the trailer was a hot topic this week, we want to see how everyone is feeling about Pokemon: Detective Pikachu so far. Are you in or out? Are you planning on seeing the film? What do you think about what's been shown so far? Let us know in the comments below.
Highlights from last week's topic: What are you playing? – November 2018
LittleLynn
A friend of mine somehow wound up with an extra copy of Valkyria Chronicles 4, so she gave me one of them. I was planning on waiting for a price drop for this one, but hey, I have it now so I'm gonna play it now. I'm not far in just because I've been busy, but I'm enjoying it. It's nothing remarkable so far, but it's fun.
I don't know if I'll finish it before Let's Go, Eevee comes out, but I do have that preordered and am looking forward to playing that really soon. And I'm eager for December 7th, but hopefully I can finish everything I'm currently playing before then. XD
Mortyflan
Xenoblade Chronicles 3D, ACA NEO GEO Mark of the Wolves, Pokemon Pearl, Pokemon Sun
Game_God
Been playin' Octopath Traveller, Xenoblabe 2 & started a new Zelda BOTW game!
Jay Bern
Been flip-flopping between a bunch of different games, though I've been playing Smash Bros. Melee and Warriors Orochi 4 the most. Especially Warriors because of how big a fan of the series I am. I think it, Soulcalibur 6, and Smash Ultimate are pretty much the only games that are.coming out/have come out over the past six or eight months that I really care about
Leave a Reply