Mario Golf: Super Rush giving NES Open Tournament Golf Mario outfit as Ranked Match reward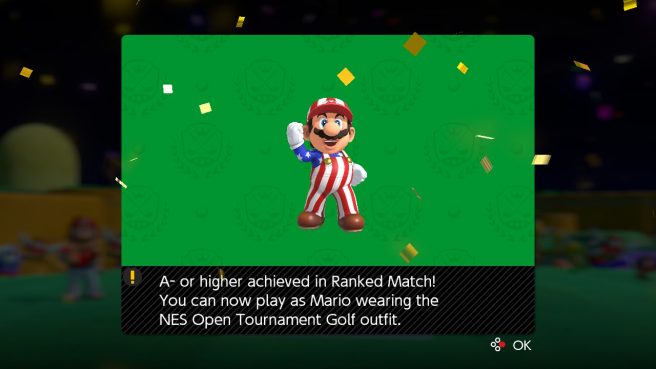 It's a new month, and now that Mario Golf: Super Rush has reset its Ranked Match for January 2022, players can get their hands on a new reward based on Mario's classic look in NES Open Tournament Golf.
Just like with previous events, there's not a whole lot involved with the unlock process. Players only need to reach the rank of A- or above within the next month. This can be done by playing matches online in Ranked Match, playing well against others, and defeating higher ranked opponents. The NES Open Tournament Golf outfit can be selected once unlocked by going to the select screen in Mario Golf: Super Rush, hovering over the character, and hitting the "L" button to swap outfits.
Mario Golf: Super Rush introduced its Ranked Match and costume rewards last September. We've seen a few different outfits thus far, including a Boo visor, a few new colors for Toad, new colors for Koopa Troopa, and Mario's classic overalls. Rewards from previous months have not yet been made available again.
Mario Golf: Super Rush originally came to Switch in June 2020. Learn more about the game on the official site here.
Thanks to Cameron for the tip.
Leave a Reply