Mario + Rabbids Sparks of Hope reveals DLC details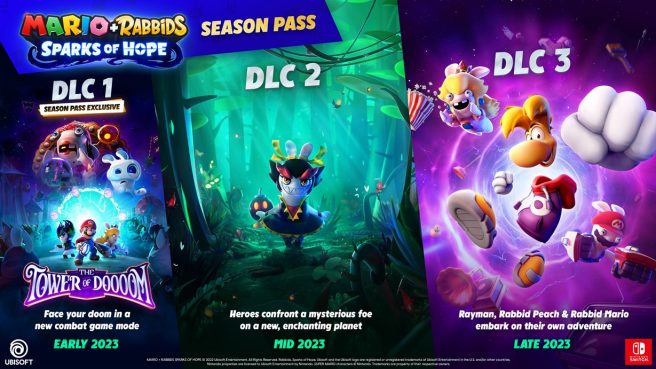 Mario + Rabbids Sparks of Hope was known to be receiving three rounds of DLC that ends with Rayman, but Ubisoft has now come forward with some additional information.
First up is Tower of Doooom, which is planned for early 2023. With this DLC, Madame Bwahstrella needs Mario, Rabbid Peach, and their friends to clean her multi-dimensional tower and save their old friend Spawny. It'll add a new combat game mode in which players will face highly strategic battles as they make their way to the top of the Tower.
Following in mid-2023 is the second piece of downloadable content where the main cast travels to a brand-new planet. Here players can explore new environments that are filled with fun characters to meet, secrets to discover, and new enemies to face. Ubisoft has described it as story content.
Finally, as previously announced, Mario + Rabbids Sparks of Hope is receiving new DLC featuring Rayman "in a surprising, fun and epic adventure." Rabbid Mario and Rabbid Peach will be here as well, but players can also control Rayman as they explore a new and mysterious place. The last round of DLC drops in late 2023.
Tower of Doooom is exclusively available for owners of the Mario + Rabbids Sparks of Hope season pass. The other two pieces of DLC can be bought separately. The season pass is included in the Mario + Rabbids Sparks of Hope Gold Edition.
Source: Ubisoft PR
Leave a Reply