[Interview] Mario + Rabbids Sparks of Hope associate producer on combat changes, animation detail, Rayman, and more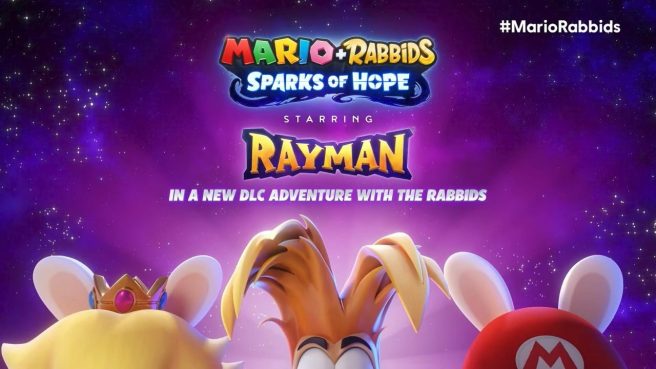 Mario + Rabbids Sparks of Hope is fast approaching, and Ubisoft recently held a hands-on event for the media. After spending a few hours with the game, we also had a chance to speak with associate producer Quentin Correggi. Correggi touched on combat changes that have been made compared to Mario + Rabbids Kingdom Battle, the work and detail being put into the animation, his excitement for bringing back Rayman, and more.
You can read our full discussion with Correggi. We also have a video version at the end of this post.
Can I just have you start by introducing yourself?

I'm Quentin Correggi, I'm an associate producer on Mario + Rabbids Sparks of Hope. Basically, the Associate Producer's role is to coordinate all the different teams… artists, animators, designers, level designers… to, of course, collaborate together to build the game. My scope is mainly on the combat side, so I'm kind of the combat expert for Mario + Rabbids Sparks of Hope.

Talking about the game as a whole, what are you most proud of?

Well, it would be hard not to talk about the combat, but overall, I think when we started the development of Sparks of Hope, we had three pillars in mind. The first one was freedom. The second one was player agency, and the last one was dynamism. All of them were coming from the experiences and the feedback from the players that we received from Kingdom Battle and the follow-up expansion of Kingdom Battle, which was the Donkey Kong Adventure DLC. So, it might be a broad answer, but I think that it's every single one of those pillars – the freedom in exploration, the freedom to explore the planets, encounter new NPCs, quests, puzzles, mysteries and combat. You have a lot of agency with the Sparks that you can equip that can tweak your character's archetype, and you can build your own team and think about how you want to approach different challenges. And finally, on the dynamism with the real-time aspect that we brought [into] Sparks of Hope in combat. So in a way, I guess the thing I am the proudest of is the fact that we managed to deliver on each of those three pillars as a whole.

The switch to making the combat a little more real-time… when I was playing it, it really does make it feel a lot more dynamic and open-ended. Why was that something that was important to you?

Well, once again, it's coming from the foundation of Mario + Rabbids Kingdom Battle. When we released this game and we started to get player feedback, which was usually positive, well, which was great… the main thing we noticed was that players really enjoyed everything that they could do during the movement phase. In a lot of other tactical games, the movement is just to go from point A to point B – and of course, it's a meaningful choice because this is where you will decide to attack, et cetera – but there is not much happening. What we did with Kingdom Battle was to really make the movement phase a lot more appealing, because you could dash, Team Jump, take a pipe, cover lots of ground, et cetera. And when we saw that players really like that, we decided to expand it even further with the Donkey Kong Adventure DLC, because now we had Donkey Kong that could also grab enemies, throw them… which is something that is now an integral part of Sparks of Hope. And in a way it made sense to go even further, to be even more ambitious and bring more dynamism – to really focus even more on, okay, how can we make that movement phase even more dynamic, more meaningful for the player, more fluid as well, with less friction, especially for the players that are not really into tactical games? So yeah, in a way it's coming from that. It's the evolution of everything from Kingdom Battle through Donkey Kong to now Sparks of Hope that made us do the leap of faith of going with real-time control.

When the first game was unveiled, some people were skeptical about how the Rabbids and Mario would work together. Do you feel like the perception of that has changed?

Well, at least from all the people that had a chance to play the game, I've heard only really great feedback from the Rabbids and their personalities. I know that some time ago, the… let's say the old Rabbids… were maybe a bit divisive in terms of the community. What was really important for us was to create a new identity for the Rabbids and the Rabbids' character, especially in Kingdom Battle, but even more [in] Sparks of Hope. They have their own personality, each of them now in Sparks of Hope. They even have their own voices. So, we have specific actors that are voicing every single Rabbid to give them even more personality and humor and allow them to express themselves. So overall, the feedback was really positive on the Rabbids. Of course, myself, I really enjoy it. I love the humor that we have in the game. So hopefully everyone will enjoy it as well.

Yeah, that was one of the things that really stuck out to me while I was playing. Did they talk in the first game? It felt so natural here, that I couldn't remember.

No, it's new!

The first game had a PvP multiplayer mode. Is that going to be in this game as well?

So, no, Mario + Rabbids: Sparks of Hope will be exclusively a solo experience. And I can talk a bit more in detail about why. When we when we build a project that is so ambitious… because once again, on every single pillar we decided to be much more ambitious than in Mario + Rabbids: Kingdom Battle… it's important to "choose your battle" in a way, which is good because we are also building a tactical game about battles! But for us, it was really important to focus as much as possible the efforts on delivering the solo experience that is the core of the game. And it was much easier and more efficient to focus the whole team on delivering the best experience as possible. So yeah – 100% solo experience for Mario + Rabbids Sparks of Hope.

You recently announced there's going to be a season pass with three expansions, and that the third one has Rayman in it.

The third one has Rayman it, it's the last one. We want to end with a bang! Of course, we cannot talk too much about them, mainly because the majority of the team is still focusing on delivering the original game. But the first one will be a completely new game mode, and the two others will be story expansions. In the last one, we will see the long-awaited reunion of Rayman and the Rabbids.

It's been a long time coming!

Yeah, definitely. And personally, at least for me… it has been a joy to work on a Mario game, but in a way, I'm almost even more proud to be able to work on a Rayman game. Rayman is most likely the first video game I played when I was a child. In France, Rayman has quite a big aura, because of Ubisoft being a French company. So now I can finally play… well, not just play it, but also work on a Rayman game. And I'm really, really glad about that.

And I can also see a lot of that passion in the animation and the details of this game. Can you talk about the work that went into how these characters move and look onscreen?

The animation team that we had on Mario + Rabbids – the first one – the majority of the team remains the same. They developed such an amazing expertise on being able to animate the Rabbids, and of course the Nintendo characters as well. I mean, they are geniuses. The amount of effort that goes into every single animation… and then we have different variations for each action in combat. Each character has different animation for the same action, so we can have a lot of variety. We also have animation for random interactions between the characters. Like, for example, when you move your characters around in combat, they look at each other, which seems like a detail, but it really adds a lot in terms of immersion and feeling that the world's alive. We have also lots of wildlife in the different planets in exploration. We have animals, birds, squirrels in each planet, lots of different animals with their specific animation. So, the animation has always been a very strong pillar of Mario + Rabbids in Kingdom Battle, and of course in the Donkey Kong Adventure, but here I really feel that we pushed the bar even further. And yeah, really, congratulations to the whole animation team in the game. Of course, all the teams did a great job, but animation-wise… yeah, they are kind of geniuses.

Is there anything else that you want to add? What would you like to tell the players of this game?

Well, first of all, I hope that they will enjoy it! You don't need to have played the first one, Mario + Rabbids: Kingdom Battle, to enjoy this one. Those are completely separate experiences. Of course, you will meet characters that you saw in the first one, but there is no need to play the first one to really enjoy this one. I think they offer really two different experiences and ways to play, and you can pretty much play them in whatever order that you want. And we are extremely proud as to what we managed to deliver. The feedback so far has been very positive, so we really enjoyed that. You will all enjoy it, and it's out on Switch on October 20.
---
Note: This interview has been edited for readability and conciseness.
Leave a Reply