Miitopia – site open, footage, amiibo support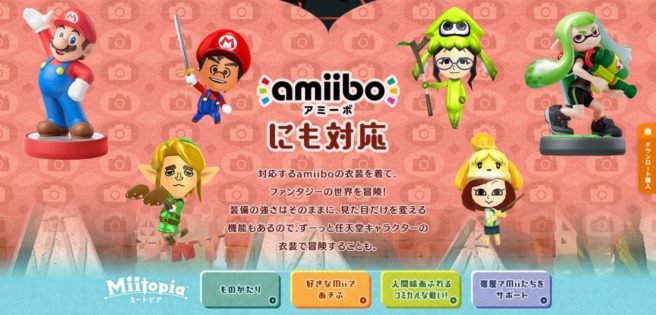 Following today's Nintendo Direct, the official Miitopia website went live. You can access it here. The page has a number of gameplay clips, which we've rounded up below.
We also now know about the role of amiibo in Miitopia. You can use figures to unlock costumes, as shown in the image above. There is a feature that only changes the looks while keeping the equipment strength, so you can always go on adventures with Nintendo character costumes.
Head past the break for the full lineup of compatible amiibo.
Smash Bros.
– Mario
– Peach
– Yoshi
– Donkey Kong
– Link
– Samus
– Kirby
– Luigi
– Zelda
– Rosalina
– Bowser
– Toon Link
– Sheik
– Dr. Mario
– Ganondorf
– Zero Suit Samus
– Ness
Super Mario
– Mario
– Luigi
– Peach
– Yoshi
– Toad
– Bowser
– Golden Mario
– Rosalina
– Donkey Kong
– Daisy
Splatoon
– Inkling Boy
– Inkling Girl
– Inling Squid
– Callie
– Marie
Yoshi's Woolly World
– Green/Pink/Light Blue Yarn Yoshi
– Mega Yarn Yoshi
Animal Crossing
– Winter/Summer Isabelle
– K.K. Slider
– Tom Nook
– Resetti
Zelda
– Ocarina of Time Link
– 8-Bit Link
– Toon Link
– Toon Zelda
Other amiibo
– Classic/Modern 30th Anniversary Mario
– Kirby (Kirby series)
Leave a Reply