Minecraft Dungeons – Jungle Awakens DLC and free update due out on July 1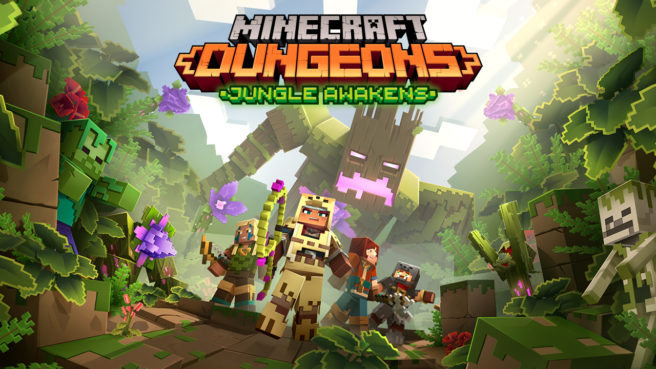 The recently-announced Jungle Awakens DLC for Minecraft Dungeons will launch on July 1, Mojang Studios has announced. It will be accompanied by a free update on the same day.
Below are all of the relevant details:
One thing they did add was more shrubbery, vines, and humidity. Foliage as far as the eye can see. Oh, and a bunch of new weapons, armors, artifacts, and mobs. And three new story missions! Aaaand a free update, which includes the Lost Temple dungeon, some new items, and a few game balancing changes. Phew! I'm out of breath and I haven't even gotten to the pandas yet.

That's right, the first Dungeons DLC is on its way! Jungle Awakens will be released on July 1, so get ready to battle new mobs such as the Leapleaf and Whisperer before ultimately saving the day by defeating the Jungle Abomination. For those of you who already bought the Hero Edition, all of this is included! Don't worry, you can always upgrade your standard game with the Hero Pass. Hooray! Sorry, I mean hero-ay! What, you think that's a bad joke? I don't have time to craft my usual high-quality puns for you because I have a jungle outfit to perfect and pandas to admire from afar.
We have a few screenshots from Minecraft Dungeon's Jungle Awakens DLC below.
Leave a Reply