Minecraft getting new update on Switch / Wii U tonight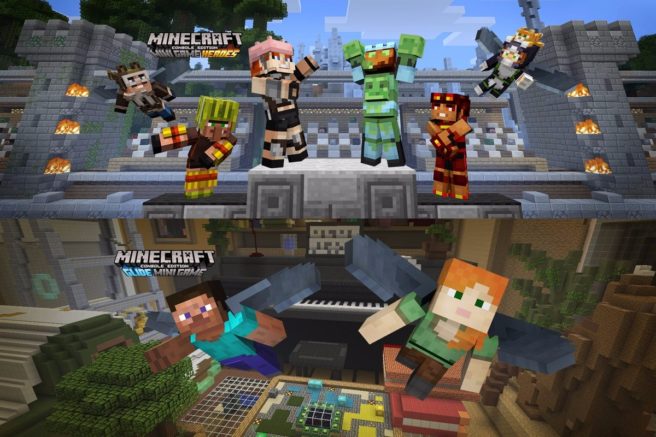 Minecraft will be updated very soon on Switch and Wii U with the latest features and DLC. Along with the Glide Giants Track Pack and Mini Game Heroes Skin Pack, new achievements, mobs, and more will be available.
Below are the full patch notes:
Added Mini Game Heroes Skin Pack.
Added 7 New Achievements
Added Biome Scale Slider
Added Find Balanced Seed option
Added Llamas, new mobs that can be tamed and ridden, and will form caravans when led.
Added Parrots. Try letting them ride your shoulder, but be careful what you feed them!
Added Woodland Mansions, and the mobs that inhabit them: Vindicators, Evokers, and the annoying Vexes that they summon.
Added Explorer Maps to help you find Ocean Temples and the new Woodland Mansions, and the new Cartographer Villager to sell them to you.
Added Observer Blocks.
Added Totem of Undying item.
Added Curses of Binding and Vanishing.
Added Spawn Eggs to the Creative Menu for Skeleton Horses, Zombie Horses, Elder Guardians, Strays, Wither Skeletons, Husks, and Zombie Villagers.
Updated Textures for Mule and Donkey Spawn Eggs.
Added dyeable beds
Added display of status effects on the HUD.
Reduced the amount of Food Bar drain player many actions cause, but increased the drain caused by health regeneration.
Torches can now be placed on the full-block side of Stairs
Iron bars, glass panes and fences adjacent to the full-block side of a stair will now visually connect.
Carpet and snow layers can now be placed on top of upside-down stairs.
Beds are now bouncy, though they do not completely reduce all fall damage.
Leave a Reply