Minecraft getting "Trails & Tales" update in June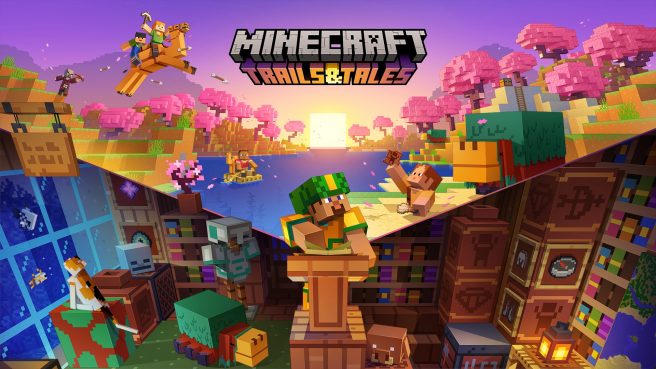 Mojang has announced that the next big Minecraft update, "Trails & Tales" is slated for next month. Version 1.20 drops on June 7, 2023.
The Trails & Tales update includes a new biome, more mobs and blocks, and different ways to shape your Minecraft story. It's possible to craft and build with bamboo and cherry. Bamboo wood sets include a raft that can be made with or without a chest. Also new is the camel mount, the sniffer, and more.
Here's a bunch of additional details:
The second mob joining Minecraft in 1.20 is one that the community voted for during Minecraft Live 2022. Also of the larger variety, the sniffer is a gentle giant that was once extinct. You can bring it back to the Overworld by finding its eggs, hatching them, and watching your snifflet grow up. I would recommend an endless cycle of hatching, so you can always look at the adorable snifflet discovering the world while the grown sniffer sniffs out seeds for ancient plants: the torchflower plant and pitcher plant! You really can have it all, and by all, I mean all the sniffers!

So where does one find sniffer eggs? I am so glad you asked, because that is the perfect segue into another new feature – archeology! Dig around in the sand to find buried ruins and use the new brush tool to uncover the treasures in suspicious sand and suspicious gravel blocks. If you're lucky, you'll find a useful tool, sniffer egg, or pottery sherd (not a typo!) Keep searching, because if you find four of them you can put them together to make a pot. There are lots of different patterns to unearth, each telling their own story.

Speaking of stories, this update allows you to share them through the power of fashion! Yes, that's right, wearable storytelling is coming not just in the form of shield banner parity, but through armor trims! You need to hunt down one of the numerous armor trims that can be found across the different dimensions of Minecraft. Then you can dye it in one of ten colors and add it to your armor on a smithing table, and voila! Everyone you encounter will bask in the spoils of your victories.

Did you know that you can hang signs now? Standing is so 1.19! Leave notes for your friends or mislead your foes by hanging signs on the sides of structures or beneath a block. And while we're feeling mischievous, why not add some playable mob sounds? Place a mob head, including the new piglin mob head, on a note block to play that mob's ambient sound! Add the ambiance of the End without the danger by creating an Ender Dragon white noise machine, or scare off intruders and in-laws with a hissSssSssing fence. Just be careful if you hook up your new mob head noteblocks to skulk sensors, because the new, calibrated skulk sensors coming with 1.20 are even more sensitive (and the redstone possibilities even more exciting!).

When you've traversed the Overworld, leapt through dimensions, or woken up from a prolonged meditation, why not write it all down in a book? A book which you can then keep safe in the new chiseled bookshelf. Store it along with other books, a book and quill, and enchanted books. You can even add some redstone if you want to add some movement to your library. But remember, indoor voices only if you're visiting my personal library. It's also where I nap, which I am going to do until June 7 so I can pass the time quicker!
Leave a Reply