Minecraft reveals SpongeBob SquarePants collaboration DLC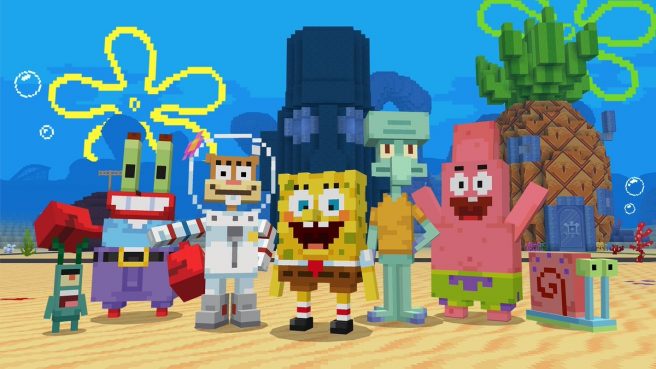 Original (6/30): Minecraft isn't slowing down on its collaborations, and it's now been revealed that the game is teaming up with SpongeBob SquarePants from Nickelodeon.
So far it's been confirmed that Mojang Studios has looked to replicate iconic locations from the show, including Bikini Bottom and the well-known houses of the characters. And speaking of characters, it looks like we can expect to see SpongeBob, Patrick, Squidward, Sandy, Mr. Krabs, Plankton, and Gary. There's even a story in which everyone is trying to have the best day ever, and you're trying to help them. One part of it involves crafting an instrument for Squidward, who wants to perform at the Oyster Stage.
You can get a first look at the DLC at the 1:02:45 mark below.
Mojang is also celebrating the upcoming DLC with an imitative with fans. Until July 14, they want to see players' SpongeBob Squarepants themed builds, which can be submitted by sending out a message on Twitter with their works using the #FeatureMeMinecraft hashtag. Selections may end up being featured on Minecraft.net.
Mojang Studios hasn't said when the SpongeBob SquarePants DLC will be available for Minecraft, but we'll give you a heads up when we have more information.
---
Update (7/26): The SpongeBob collaboration launches today, and we have a trailer below.
---
Update (4/26): The SpongeBob DLC has just received an update. It's added new quests, updated interiors, added furniture, more character customization, new boatmobiles, and a haunted mini-game.
Leave a Reply