Monster Hunter Rise: Sunbreak update 4 out next week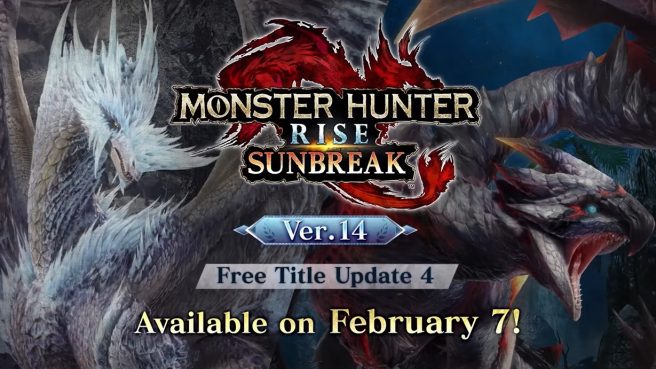 Capcom just announced a release date for the Monster Hunter Rise: Sunbreak free title update 4 (version 14). As revealed during the latest Monster Hunter Digital Event, it will be available on February 7, 2023.
There's a ton that's planned here, including the return of the Elder Dragon Velkhana from Monster Hunter World: Iceborne plus Risen Crimson Glow Valstrax. That's along with new Anomaly Research content, more items at Bahari's Anomaly Research Lab, more Event Quests, the latest DLC, and more.
Here's a bunch of additional information Capcom sent over:
A frigid force of nature few scientists have ever seen is making its way to the Frost Islands. Velkhana, the elusive Elder Dragon that debuted as the flagship monster of Monster Hunter™ World: Iceborne, has been spotted by the scouts of Elgado Outpost. This monster's gracefully cold demeanor foreshadows the serene stillness of the many beings left frozen in its wake. By glaciating the ambient water in the air, Velkhana is capable of forming massive pillars of ice when engaged in combat, and can even freeze the most hot-headed hunters solid. Winter winds often bring fell tidings, and the arrival of Risen Crimson Glow Valstrax proves this adage true. Just what this Risen Elder Dragon is capable of remains a mystery, as it has been deemed too dangerous for study. Hunters dedicated to gathering more data for their relentlessly inquisitive science teams can face Velkhana starting at MR 10 and Risen Crimson Glow Valstrax starting at MR 160. Any materials gathered in these excursions will of course be invaluable for crafting new weapons and armor featuring their own unique skills.

The Qurio-curious will also have new Anomaly Research at their fingertips as well, with Afflicted Chaotic Gore Magala joining the A8★ Quests, and the Anomaly Investigation cap rising to 220. Elder Dragons will begin appearing from difficulty level 111 onward, so be prepared for a fight! Event Quests will continue to arrive every week, including two new Dual Threat quests featuring Seething Bazelgeuse and Chaotic Gore Magala, alongside an Arena Quest with Furious Rajang and Scorned Magnamalo. Every Event Quest has its own unique reward, so be sure to give them a try.

Free Title Update 4 also brings a variety of new paid DLC, including layered armor for rookie hunter Lance Gunn and the venerable Ran Page. These adorable doodles, drawn by the hand of the underappreciated talent Minoto, have been featured since the release of Monster Hunter Rise and help new hunters understand the ins and outs of Kamura Village. Speaking of Minoto, players can also purchase the "Minoto" layered armor set alongside new gestures, poses, stickers, music, and hunter voices. To celebrate the release of Free Title Update 4, players can also sign up for early access to a free Palamute layered armor that makes their furry friends take on the appearance of the Elder Dragon Velkhana! Please visit the official Monster Hunter website for more information on how to sign up using a Capcom ID.
Watch a trailer for the Monster Hunter Rise: Sunbreak free title update 4 (version 14) below.
Note that Capcom has even more support planned for the future. The fifth update will be introducing another returning Elder Dragon, but details won't be shared until April.
Leave a Reply