Monster Hunter X also announced for 3DS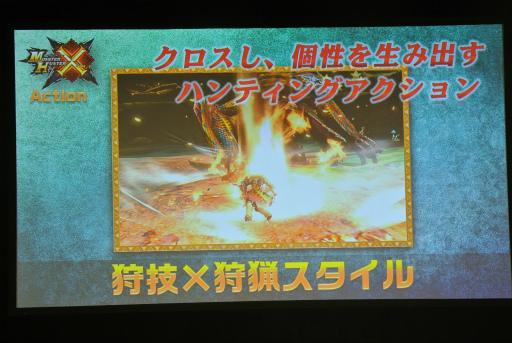 Capcom has announced not one, but two brand new Monster Hunter games at today's "Hunter's Meeting" in Japan. In addition to Monster Hunter Diary Poka Poka Airou Village DX, the company has also revealed "Monster Hunter X" for 3DS.
Monster Hunter X is built on the same engine as Monster Hunter 4. It'll feature flashy action and puts the focus on the hunter. Fans can expect new super actions for all weapons (much more than just a few new moves), new monsters, and more.
Capcom says there will be classes with special attacks that you can activate as an accent to the action. Villages from the 1st, 2nd, and 3rd generations will return. Beruna is base village, which is set at base of massive mountain range.
Monster Hunter X features four styles of playing to choose from. Each one changes the special moves you can perform. There is a focus on the personalization of your hunting style.
Monster Hunter X will offer an increase in the actions in both variation and number. The title's concept is to take the action and make it stylish/varied enough so that everyone can find their own unique way of playing.
Capcom is including four flagship monsters in Monster Hunter X. In terms of areas, there will be new places to explore. New monsters are being included in the game as well. There will be a total of four main monsters, four villages, and four styles of play.
Monster Hunter X launches in Japan this winter.
Leave a Reply