More planned for Nintendo Switch Online in 2022, Expansion Pack ratio high in the US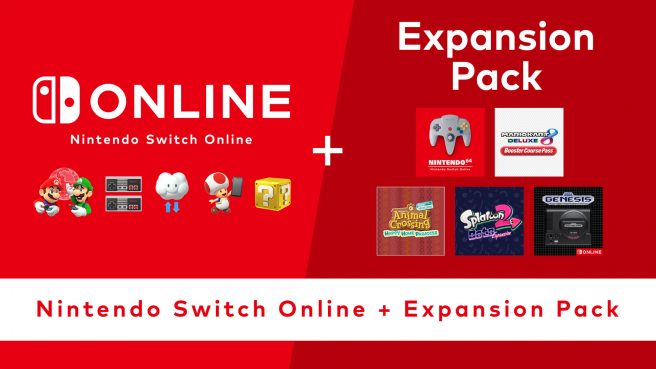 Nintendo reported its financial results this week, but didn't have much to say about Nintendo Switch Online. During the Q&A portion of its briefing though, the company provided an update.
President Shuntaro Furukawa noted that "it is important to continuously make the service more compelling through the addition of titles that utilize online gameplay and improvements to the service itself." He would later say that Nintendo "will continue to expand upon the service and deliver various content throughout the year."
Furukawa also shared a few comments about the Expansion Pack specifically. Interestingly, "the ratio is especially high in the United States" in terms of those adopting to that tier. New subscribers began to pick up late last year thanks to N64 games joining Nintendo Switch Online + Expansion Pack plus DLC for Mario Kart 8 Deluxe and Animal Crossing: New Horizons on the service.
Furukawa's full words are below:
"An updated number of Nintendo Switch Online members will not be announced today. Last year, we disclosed there were 32 million subscribers as of September 2021. Since then, the number of subscribers has steadily increased alongside sales of hardware units. Since not all consumers renew their subscriptions after the expiration of their membership periods, we think it is important to continuously make the service more compelling through the addition of titles that utilize online gameplay and improvements to the service itself.

In March of this year, we added a new "Missions & Rewards" feature to Nintendo Switch Online. By completing missions (such as "Play Software That Supports Online Play" or "Play Game Trials Software"), players can earn My Nintendo Platinum Points, which can then be redeemed for rewards such as "icon elements." Furthermore, Nintendo Switch Online + Expansion pack (started in October 2021) now offers access to Mario Kart 8 Deluxe – Booster Course Pass (released in March) at no additional cost. We will continue to expand upon the service and deliver various content throughout the year.

The number of Nintendo Switch Online + Expansion Pack members is steadily increasing, and its share among the overall Nintendo Switch Online subscriber-base is gradually expanding. By region, the ratio is especially high in the United States. When we first started Nintendo Switch Online + Expansion Pack, the majority of subscribers were those who migrated from the original Nintendo Switch Online membership plans. However, we began to see an increase in new subscribers late last year, caused mainly by the introduction of popular Nintendo 64 titles and add-on content for Mario Kart 8 Deluxe and Animal Crossing: New Horizons.

Whether or not we offer future add-on content as part of Nintendo Switch Online + Expansion Pack will depend on the user-friendliness of the overall experience and the compatibility of each piece of software. Each title will be distributed in a way that best fits its characteristics."
Leave a Reply