Update: new My Nintendo rewards for Miitomo now live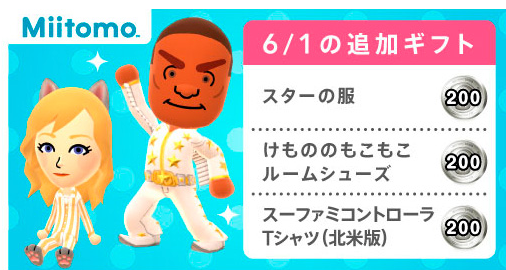 Update (6/1): The rewards are now live! You can check them out below, or redeem your coins for them at https://my.nintendo.com/rewards
---
Three new Miitomo rewards will be added to My Nintendo tomorrow. According to a Japanese newsletter, these items will be available:
Star Outfit: 200 Platinum Coins
Animal Slippers: 200 Platinum Coins
SNES T-Shirt: 200 Platinum Coins
Although this news originated from Nintendo's Japanese newsletter, the rewards should be going up in North America and Europe tomorrow based on precedent. We'll let you know if we hear otherwise.
Leave a Reply