New Mario Kart Arcade GP VR details, images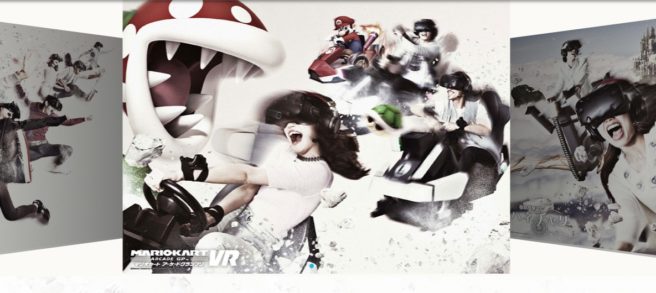 At the end of last week, Japanese outlets were able to go hands-on with Mario Kart Arcade GP VR. New details about the game were shared as a result.
We have the following information:
– Four players get to race as Mario, Luigi, Yoshi, and Peach
– Bowser and Wario also appear as NPCs
– People play by wearing not only VR googles and headphones, but also Vive trackers on each hand
– The right hand controls the accel, and the left hand has the brake
– The course is using the one from Mario Kart Arcade Grand Prix
– The handle has force feedback, and the seat also rumbles
– Three items are available here: Banana, Hammer, and Green Shell
– Items are floating on balloons mid-way, and can be obtained by raising your hands to grab them
– You can also throw items towards opponents behind you
– Can now throw items in all sorts of directions
– Tracks also have gimmicks like a giant Piranha Plant showing up from the side, a Thwomp falling from above, and a Bob-omb trying to cross the road and will explode if crashed into
– The track will change from a flooded area to a red hot area that resembles Bowser's Castle
– When you're inside tunnels it'll also have a steampunk feel
– There's also a section where racers can glide mid-air
– Races are balanced so that nobody gets to greatly surpass others
– Finally, there are no time records or rank placements at the end of the game (the writer assumes it's because they want players to have fun rather than honing their skills)
We also have some new images as well:
Mario Kart Arcade GP VR is playable right now in Japan. It just opened up at the VR Zone Shinjuku.
Leave a Reply