New Shovel Knight amiibo revealed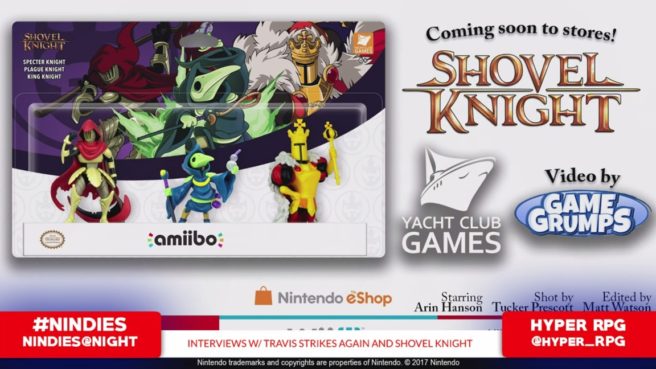 Update: Added in additional information from Yacht Club's blog below.
---
Original: Three new Shovel Knight amiibo have been revealed, as was just shown in the [email protected] stream. Specter Knight, Plague Knight, and King Knight will all be sold in a 3-pack.
In terms of functionality, each figures unlocks helper fairies. They'll also provide new challenge stages and new visual armor. "Some other things" were teased in a reveal trailer as well.
No word yet on when the amiibo will be available. They should be out sometime in the near future though.
Exclusive armor set for each character!
Don a more sinister attire with Lich Lord Specter Knight and play in style! These unique armors are cosmetic only so you can mix and match them with your favorite armor effects already found in the game!

New amiibo Challenge Stages!
Take on additional Challenge Stages as your favorite character and put your skills to the test!

Summon amiibo Fairy Companions!
Fairies are in the air! Like the Fairy of Shovelry, these fairies take flight to accompany you on any campaign, all the while bringing a little extra joy to your adventures! Don't worry though, they won't get in your way or mess with your gameplay!
Leave a Reply