New Year's dev drawings – Super Mario Maker, Ace Attorney, more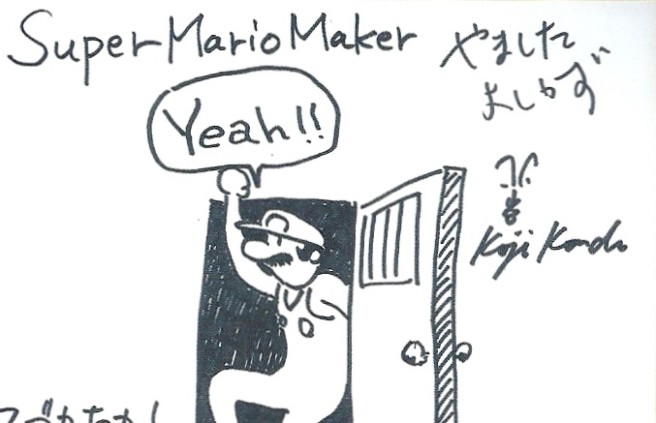 Japanese magazine Nintendo Dream is celebrating the start of 2016 in its latest issue. Various game developers and other key members related to the industry contributed handmade drawings, including representatives from Nintendo, Capcom, Square Enix, and more.
Over the next few weeks, we'll be sharing the various images featured in Nintendo Dream. The second set of drawings, rounded up in the gallery below, features Super Mario Maker, Ace Attorney, and some others. We also have text accompanying the shots (including many developer comments!) after the break.
Capcom – Monster Hunter X

Shintaro Kojima's comment (producer): I'll be glad if everyone can find their own playstyles in "Monster Hunter X" and add more hunting friends. This year there will be also various events so look forward to them too!

Yasunori Ichinose's comment (director): I think it'll good if "Monster Hunter X" becomes a thing that connects many people, enjoying the game, communicating with other people, experiencing something, and broadening their connections. It feels good if the interest can be shared to more people.

Capcom – The Great Ace Attorney

Shu Takumi's comment (director): Happy New Year. Last year we managed to release "The Great Ace Attorney", but it was actually a full year where we experienced an endless trip… on the "adventure" of making games where each titles open a new world. In the next "adventure", I'll do my very best so I can greet everyone again. Best regards to you all.

Capcom – Ace Attorney 6

Motohide Eshiro's comment (producer): Happy New Year. Ever since we announced "Ace Attorney 6" at last year's Tokyo Game Show, we've been getting supportive messages from many users, so I'm really thankful. In order to live up to expectations, the development team will use all of their time in fine-tuning and raising the quality of the game. We're doing our best to release it as soon as possible, so please keep up your continued support this year!!

Takeshi Yamazaki's comment (director): Happy New Year! During the first half of 2015 I was glued to my desk focusing on creating a game, but finally we were able to announce "Ace Attorney 6" at Tokyo Game Show. We're undertaking new challenges in 6, such as it taking place in a foreign country, and a new system that's based on spirit mediums. We're looking forward to be able to bring this to everyone in 2016. The contents will be also considered a "compilation", so please expect it!

Square Enix – Live A Live

Takashi Tokita's comment (director): Happy New Year! Last year, thanks to everyone's support, after 20 years passed, the Virtual Console version of "Live A Live" was released, and "Live A Live A Live Kichijouji-hen" was also able to be held, so I'm in an inexpressible feeling now. I'm doing my best so we all can celebrate the 22nd anniversary too. Best regards too this year!!

Nintendo – Super Mario Maker

Other than the above 3 people who appeared in the interview, Mr. Koji Kondo who also made some songs for this game also signed in. Illustration is done by Mr. Shigefumi Hino, the planner for this game. Will Mario open a new door in gaming in 2016 too!?

SEGA – Sega 3D Reprint Archives

Yosuke Okunari's comment (producer): SEGA fans won't forget 2015, as Segata Sanshiro was revived and the music for "NiGHTS" was brought in a full orchestra concert that year! Furthermore, it was SEGA Mark-3's 30th anniversary, so when the Mark-3 versions of 2 "Phantasy Zone" games, which I was addicted to in my childhood, could be brought as a bonus to 3DS, the developers have done all the favors. We'll do our best too in 2016 to provide more new nostalgic surprises.

Ken Sugimori's comment (package illustrator): The "SEGA 3D Reprint Project" will forever continue from here on, and I think it would be helpful if I help draw the packages, so everyone please look at this when you're buying games right after new year! SEGA!
---
Thanks for making it to the end of this post! If you use any of this translation, please be sure to properly source Nintendo Everything. Do not copy its full contents.
Leave a Reply