[Interview] Ninjala dev reveals project's origins, talks focus on reduced network delay, post-launch plans, more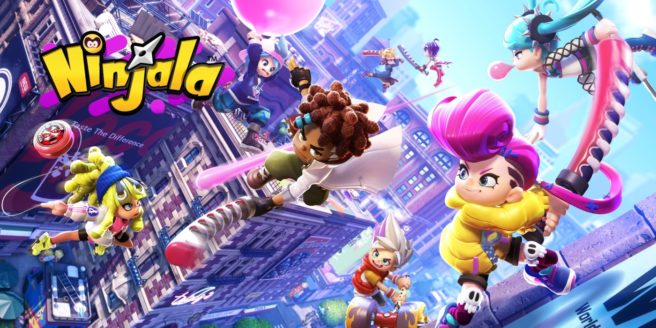 Two years after its initial announcement, Ninjala is about to make its debut on Switch. The action battle game will be launching on June 24.
Ahead of the upcoming release, we were able to speak with game designer Kazuki Morishita, who also worked on the original story. Morishita shared some interesting origins about Ninjala, spoke about some of the game's inspirations, wanting to focus on reduced network delay, what's in store after launch, and more.
Our full interview can be read below.
For those who are unfamiliar with Ninjala, how would you describe the game?

In a few words, Ninjala is a "Ninja-Gum Action" game.

Ninjala is an 8-player online battle game that allows players to use a special bubble gum called Ninja-Gum to create weapons, disguise themselves, and move freely through the environment.

How did the idea for Ninjala come to be?

I've actually always wanted to create a ninja-based game for a long time.

I saw some kids playing "chambara" (sword fighting), and a question popped up. "Why do people always have the urge to play chambara when they pick up a wooden stick?" I would also pretend to be a ninja as a child whenever I found a tree branch or stick. I feel that everyone has probably experienced this at least once in their lifetime. I thought that this is like a human instinct that is also enjoyable.

From there, I imagined a multiplayer action battle game based on the chambara and ninja theme. There are many ninja themed games out there in the market, but most of them tend to feature an orthodox, old school feel with a lot of blood and violence. I like those types of games, but I envisioned a more modern, casual game that players of all ages, from children to adults could enjoy. After imagining how ninjas would look in the modern world, I came up with the idea of chambara and parkour mixing together as a sport. This is when the theme of an action battle game that incorporates verticality and the concept of freely adapting to the environment was set. After the theme was set, I started thinking about how to tie all of these concepts together. As I was thinking, I blew a bubble with the gum I was chewing and at that moment the whole idea came to my mind. Gum can be easily shaped into things and you can blow it up into a bubble. I felt that being able to shape the gum into various forms could be used like the ninja's transformation technique. This is where the core concept of the phrase "Gum Action" came from and what would ultimately become the multiplayer Ninja-Gum Action game.

I believe that there are two ways of creating a game. The first way is to design the game beginning with the game world and storyline, and the second is to start with the game system. I am more of the latter type of developer, where I begin by designing the core of the game and then brainstorm the storyline or world that fits the system.

What was it about Switch that made Ninjala match up well as an exclusive release on the console?

We didn't discuss which platform the game would be for during the initial planning stage when we were still coming up with the idea. After coming up with the theme, concept, and the idea of creating a game that players of all ages can enjoy, we decided that the Nintendo Switch would be the best match.

Was the team inspired by any particular games like Splatoon?

I researched many multiplayer battle games when the development started. However, there wasn't one single game in particular that inspired me. In fact, it was actually all of the Nintendo developed games. Ninjala is different from other games in the genre because it's a 3D multiplayer action game that focuses on close combat. As you know, there are a lot of shooting games in this space currently. I believe that one reason why there aren't more multiplayer action battle games that feature close combat is because people are concerned about network delay. Ninjala is a title where we challenged the issue of that network delay, which is a huge obstacle for close-combat action games. Also, higher frame rate is important for an action game, and we were able to deliver Ninjala at 60fps. Finally, and you'll definitely be able to see this when you play the game, but the Ninja-Gum concept really does bring a fresh perspective to the multiplayer battle genre.

Ninjala was delayed last May, and it's now finally about to release. How did the team use the extra development time to improve the game?

The reason for the delay was to modify the online competitive play so we could provide a better experience for players.

We have a completely new server design. It's a huge remake. During that time, we incorporated the feedback from various staff members and improved the overall quality. However, the original concept of the gum action has remained intact.

How has Ninjala changed since the initial announcement?

We really haven't changed the direction of the theme, game concept, or anything else from what we originally had.

At the initial showcase at E3 2018, we showed off a simplified version where we kept only the basic gum action element and removed everything else. The main purpose of this was to verify the overall balance and playability of Ninjala's gum-based action, so some players who saw Ninjala back in 2018 may have a sense that the game has changed a lot, but the final product is what was envisioned from the start, so to us it's not that big of a change.

However, we have made some minor changes and improvements since the game was first shown. For example, we took out a weapon durability mechanic and added the ability to use blown up bubble gum as a shield. The biggest change has been the implementation of the Parry system. I was honestly confused when this idea was initially proposed by one of our staff, but in Kendo and chambara, a tsubazeriai (sword clash) always happens. I have some experience with Kendo, and it turns out this tsubazeriai is one of the biggest elements in Kendo matches where you are sword to sword, reading your opponent's next movements and instantly striking the opponent's opening. So after much trial and error, we adopted it into the game. The Parry system doesn't have to be forced all the time and it introduces strategy and variety to the basic close-combat fighting mechanic.

Are there still plans to include a story mode? If so, can you tell us more about what will be included?

We will have single-player content from launch. The main focus of Ninjala's gameplay cycle is the competitive multiplayer mode, but the single-player mode will allow players to experience a different side of Ninjala.

What was behind the decision to offer Ninjala as a free-to-play title?

GungHo has a track record in F2P games such as Puzzle & Dragons. Ninjala was originally envisioned to be a game for purchase, but after observing the changes in the game market over the last few years, we wanted a broader range of players from adults to children to be able to enjoy the game, so we switched to F2P.

Will the team be monitoring feedback received during the open beta to make changes and improvements?

We are constantly monitoring player reactions through a variety of channels.

From a scheduling standpoint, there are limits to the amount of changes we can make to the game after the open beta, though we do plan to make updates and improvements in response to the feedback we receive from our players.

What sort of updates can fans expect after launch?

First are the seasonal updates, which will be added every two to two and a half months. In addition, we also plan to add new stages, new weapons, new costumes and avatar skins, and other various updates. We are looking forward to holding special events, including some that are different from the typical competitive matches.

Which ninjutsu in the game is your favorite?

Personally, I like the Punishing Blade.

But there's no specific ninjutsu that is stronger than the others, so you can use the weapon and ninjutsu that best suits your taste.

GungHo Online Entertainment has started publishing Ninjala episodes online. Given that, do you feel there's an opportunity for the franchise to expand beyond this game and into other areas such as a dedicated TV show or manga?

Currently, we are planning for a cross-media promotion. In Japan, we have already started a comic series in the shonen manga magazine called CoroCoro Comic.

What do you see as the future of Ninjala? Although the game is only just coming out now, do you envision it becoming a long-term franchise with sequels and possibly even exploring different types of genres?

Right now, my goal is to make Ninjala even more fun.

However, that goal is not only limited to the game itself. I also want to spread Ninjala through cross-media promotion to further expand the world of the characters.
Leave a Reply