Nintendo Direct E3 2019 live stream, live blog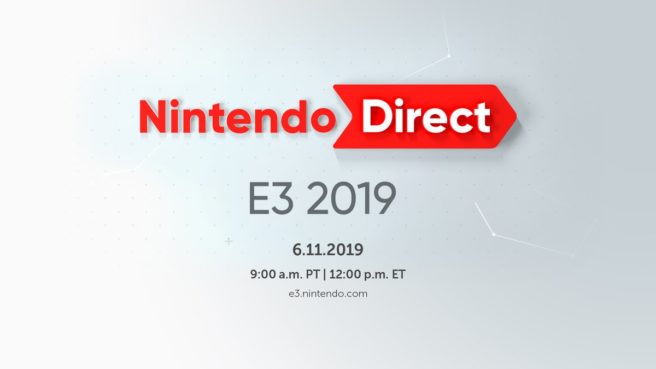 The E3 2019 press conferences and presentations are closing out with a final broadcast from Nintendo. Today's Nintendo Direct goes live at 9 AM PT / 12 PM ET / 5 PM in the UK / 6 PM in Europe.
Nintendo has been quiet on what will be shown here aside from a focus on 2019 titles. That means you'll likely be hearing more about games such as Zelda: Link's Awakening, Pokemon Sword/Shield, and Astral Chain. A new announcement or two is probably in the cards as well.
We have a live stream for today's Nintendo Direct below (which also includes activities for the first day Treehouse: Live), along with a live blog. Posts will also be made separately during and after the show.
Live Stream
Live Blog
-And here we go! Starting out with Smash Bros in a super dramatic trailer
-The hero from Dragon Quest XI draws near as the first DLC character!
-Other Dragon Quest heroes are joining as well!
-Coming Summer 2019
Dragon Quest XI S: Definitive Edition
-New trailer
-Expanded storyline with new monsters to ride, faster battles, past worlds from previous Dragon Quest games
-RELEASING SEPTEMBER 27, 2019
Sorry Bowser, you're not the President of Nintendo. Introducing Doug Bowser, President of Nintendo of America, unrelated to Bowser the Koopa King.
Luigi's Mansion 3
-Luigi is invited to a beautiful hotel with other Mario characters, but this hotel holds many secrets. Things take a dark turn.
-New Poltergust 3-00 which can suck up ghosts and use new abilities, like the suction shot
-New burst feature to attack many ghosts at a time
-Can Switch between Luigi and Gooigi, who can also be controlled by a second player
-ScareScraper local and online multiplayer
-Releases this year
Many games will appear live on Treehouse live, as shown with an icon on each game
The Dark Crystal: Age of Resistance Tactics
-Tactical RPG
-Coming this year
Link's Awakening
-New trailer and gameplay
-New dungeon creation tool?!?
-New chamber dungeons can be completed to reap rewards
-Releasing September 20, 2019
Trials of Mana
-A brand-new remake of the third Mana game, which never released outside of Japan
-Releasing worldwide in early 2020
Collection of Mana
-First three Mana games, including the original Trials of Mana for the first time in English
-Available TODAY
The Witcher 3
-It's coming to Switch!
-Complete edition releasing this year
Fire Emblem: Three Houses
-Story trailer
-Releasing July 26, 2019
Resident Evil
-Live action trailer for the Resident Evil games on Switch
-Resident Evil 5 and 6 are coming to Switch this year
No More Heroes 3
-Coming to Switch
-It's a real sequel this time!
-Coming 2020
Contra Rogue Corps
-Brand new 3D Contra game with an isometric viewpoint
-Local and online multiplayer
-Releasing September 24, 2019
Daemon x Machina
-New gameplay and story trailer
-Releasing September 13, 2020
Panzer Dragoon Remake
-Beautiful remake of an all-time Sega classic
-Releasing this winter
Pokemon Sword and Shield reminder
-Pokeball Plus can be used to take your Pokemon out for a walk, which may lead to "something good" happening.
-Water Gym will be playable at E3
-Will be featured in the Nintendo Treehouse
Astral Chain
-New trailer
-Legions help you on your fight and can help in combat and reveal secrets in environments
-Releasing August 30, 2019.
Empire of Sin
-Top-down shooter
-Coming 2020
Marvel Ultimate Alliance 3
-New trailer showcasing story, combat, and new heroes
-Releasing July 19, 2019
-Expansion pass coming Fall 2019
Cadence of Hyrule
-Play as Cadence, Link, or Zelda
-Gohmaracas are delightfully musical enemies
-Releasing June 13, 2019
Mario and Sonic at the 2020 Olympic Games
-Online multiplayer
-Coming November 2019
Animal Crossing: New Horizons
-Taking place on a deserted island getaway
-Same rolling world viewpoint as in previous games
-Coming March 20, 2020
-Gameplay will be shown at Treehouse
Highlight Reel
-Spyro Reignited coming September 3!
-Ni no Kuni on September 20
-Minecraft Dungeons Spring next year
-Elder Scrolls Blades
-My Friend Pedro
-The Sinking City coming to Switch
-Alien: Isolation coming this year
-Catan coming June 20
-Super Lucky Tale coming this fall
-Dauntless arriving late this year
Banjo and Kazooie coming to Smash!! Screw you, Duck Hunt.
-They're raring to go!
-Coming Fall 2019!
One last thing before the direct ends…
A sequel to Breath of the Wild is now in development for Switch!
Well, that's all! That was pretty insane, honestly. Huge amount of stuff coming to Switch, from blockbuster titles like Pokemon and Luigi's Mansion to more unexpected games like Panzer Dragoon and Trials of Mana. It's a bit disappointing that Animal Crossing got delayed, but what was shown still looks great and it'll surely be worth with wait. And regardless, there's still some amazing games coming this year. It's incredible that Banjo and Kazooie are joining the fight in Smash Bros. Ultimate, and it's crazy that The Witcher 3 is coming to Switch as well. Dragon Quest XI S will also be an amazing game as well, and it will be fun to play as The Hero in Smash Ultimate.
But what did you think about this direct? Let us know with a comment below. As always, thanks for tuning in!
Leave a Reply