Nintendo Direct live streams, blog (9/13/17)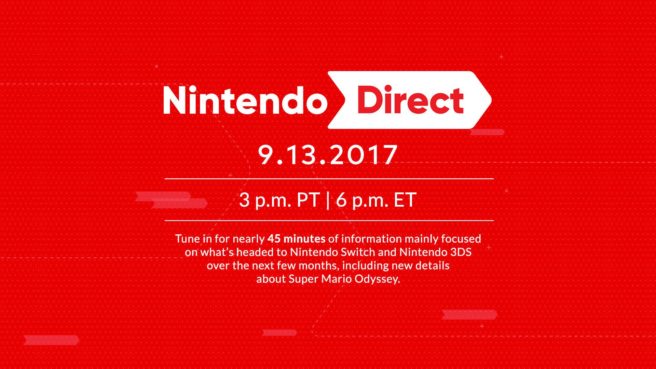 The latest Nintendo Direct will be kicking off not too long from now. Nintendo will begin hosting the presentation at 3 PM PT / 6 PM ET / 11 PM in the UK / 12 AM in Europe.
In the west, the new Nintendo Direct will be about 45 minutes long. The Japanese version will be 50 minutes long.
Assuming everything goes as planned, we'll have a live blog going below. Big news updates will be posted in real time as well. Finally, we have embeds for all three streams below. Should be fun!
Live Blog
Pokemon Ultra Sun and Moon
Necrozma has transformed into two new forms: Dusk and Dawn, depending on the game.
New map areas including a beach, the Valley of Pikachu, and new outfits.
The way you get your starter is different as well.
Purchasing the game early can get you a Rockruff that evolves into Dusk Lycanroc as well as Quick balls.
Pokemon Gold and Silver purchases on the eShop get you Celebi in Sun, Moon, Ultra Sun and Ultra Moon.
Ultra Beasts: UB Burst and UB Assembly are debuting in Ultra Sun and Moon.
Mario and Luigi: SSS + Bowser's Minions
The Bowser's Minions mode unlocks stamps, as does scanning Amiibo. These stamps will unlock new gear.
Kirby: Battle Royale
Includes a treasure hoarding mode, a battle royale mode, a single player story mode, and regional online battle. Available January 19th.
Yo-Kai Watch 2
New Yo-Kai and boss battles.
Minecraft for New Nintendo 3DS
Releases today, right after the presentation.
Mario Party: The Top 100
Launches on 3DS November 10th. Compilation of top 100 minigames from all past Parties.
Metroid: Samus Returns
Scheduled for September 15th.
The Alliance Alive
An Atlus game headed to 3DS in early 2018.
Shin Megami Tensei: Strange Journey Redux
Radiant Historia: Perfect Chronology
Etryan Oddysey 5: Beyond the Myth
Xenoblade Chronicles 2:
New trailer explains Titans, kingdoms and a titan named Azurda who houses a boy named Rex.
The main female character's name is Pyra.
Each Titan fosters unique scenery, travelling across Titans.
Drivers and Blades are fighters and supporters. Blades grant weapons and powers to drivers. Work toward charging Driver Arts, which do things like heal and do extra damage.
Switching Blades for more combinations allows for more playstyles. This is called Blade Resonance. Your weapons and art depend on Blades.
Blades are Attacker, Defender or Healer types. Switching is important and part of core gameplay. Finding the right Blade for the job is emphasized.
Blade Specials are devastating attacks that have four levels of intensity depending on when you use them.
Special Edition: Sound Selection CD, Special metal box, and 220-page art book. Controller releasing separately.
Splatoon 2 updates
Snapper Canal: New map. A river runs down the middle.
Tenta Brella: New weapon. Looks like a regular umbrella, until it expands into a riot shield for guarding.
Fire Emblem Warriors
Lyn is a new character.
A new trailer launches today.
Snipperclips Plus
Loads of new content, including a world based on comic books and a toybox world as well.
New feature gives random body shapes to replay levels with.
November 10th launch.
Morphy's Law
Shapeshifting, size-changing shooter on the Switch.
Team-based online shooter that gives you powerups based on the size of your body parts.
Launching Winter.
Rocket League
Mario and Luigi hats and Nintendo-themed Battle Cars.
Samus gunship
Local wireless multiplayer.
Launching this holiday.
Battles Rage/Arena of Valor
New MOBA on Switch.
Topdown 5v5 game
Elder Scrolls V: Skyrim
Zelda items obtainable by tapping a Zelda Amiibo.
Launches November 17th in EU and the Americas.
DOOM and Wolfenstein 2
DOOM is available on Switch this holiday.
Wolfenstein 2 launches in 2018.
Flip Wars
New update including online battle mode
Red hot new stage: Red Colosseum.
Local multiplayer introduced.
Arcade Classics
Mario Bros
Vs. Super Mario Brothers
Vs. Balloon Fight
Vs. Ice Climbers
Vs. Pinball
Vs. Clu Clu land
And more coming to Switch.
Zelda: Breath of the Wild
Amiibo champions releasing on November 10th.
Grant headgar based on the champion's divine beasts that do something special.
NBA 2K18
WWE 2K18
FIFA 18
Launching on September 29th.
Pokken Tournament DX
Demo version available right now.
Project Octopath Traveler (WORKING TITLE)
New Square Enix game, exclusive to Switch.
Eight characters, eight lands, eight "stories to be told."
A personalized adventure.
World drawn in "HD 2D." Very crisp yet pixellated graphics.
Each character has their own path action that allows them to progress in the story their own way. For instance, one character can challenge to a duel and one can allure NPCs.
Grants the freedom to choose your own path through "true role-playing."
Battle system: Fusion of simple turn-based battles and all-new mechanics, such as the boost system: Spend points collected in battle to do things like cause chain attacks.
Demo version will release later today on the Nintendo eShop, followed by a survey asking what people think of it.
Worldwide release scheduled in 2018.
Full version of trailer being released after the Direct.
ARMS
Version 3 coming out. Adding new stage and Lola Pop.
Customizable, remappable controls.
Update available right after the presentation.
Dragon Quest Builders
Coming to Switch in Spring 2018.
Kirby on Switch:
Initiate team-up attacks depending on your allies' copy abilities. Insane amounts of combinations.
Defeat the darkened force manipulating Dream Land.
Spring 2018.
Nintendo eShop
Steamworld Dig 2: Sept. 21
Gold Story: September
Nine Parchments: Holiday
Battle Chef Brigade: Holiday
Tiny Metal
Super Meat Boy Forever: 2018
Lost Sphear: January 23
Sonic Forces: November 7
Resident Evil Revelations 1 and 2: Nov. 28
L.A. Noire: November 14th
Super Mario Odyssey
Cappy wants to rescue his sister Tiara, who is on the head of Peach.
Areas: New Donk City, Tostarena, Mount Volbono, Steam Gardens, Bonneton, Fossil Falls…
New area: Shiveria. This ice-cold realm will chill you.
Bubblaine: Seaside Kingdom. The seawater is carbonated.
Mario has even more kingdoms to visit including tropical islands. Nintendo "won't spoil them all."
There are many more power moons than necessary, for completionists.
Some power moons are very tricky. Very hard to get them all.
Upon collecting all power moons, something neat "may" happen.
Talkatoo can give you hints, as can blue toad and Uncle Amiibo.
Koopa Free Running, Jumprope Challenges, and more are hidden minigames that provide power moons based on score. Online score-based system.
Crazy Cap: Outfits can be both from Mario's past or just thematically connected to the kingdom they came from.
Snapshot mode: Freeze time at any moment and rotate the camera, like Super Smash Brothers. Includes filters, rotations, and stickers.
Chock-full of classic gameplay elements alongside new things. Lyrics sung by Pauline.
"Landing" October 27, along with the wedding amiibo figures.
Mario Odyssey Edition Nintendo Switch coming on October 27 as well, along with a Switch carrying case.
Leave a Reply