[Nintendo Everything Podcast] – episode #103 – Nintendo Direct? Super Moe!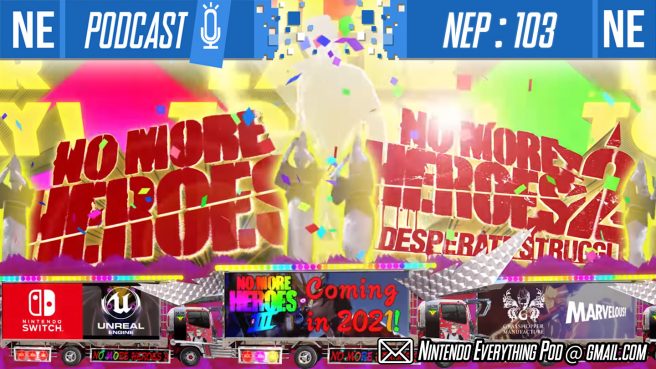 This week on Nintendo Everything Podcast, we've got so much to say about the excellent Nintendo Direct, No More Heroes, Cloud gaming on the Switch, Bravely Default II, the Hyrule Warriors demo, and more. This Direct was basically made for Oni Dino. Galen has some theories on Nintendo's new plans for mid-generation reform with Cloud gaming. Also, that Hyrule Warriors gameplay is surprisingly complex; come for our early impressions. Later on, we answer some listener mail where we talk about video games inspiring or impacting us as an art form.
We've recently created a podcast discord for listeners to chill, chat, and make friends. Check out links and timestamps below and come hang out.
If you're enjoying NEP, please consider giving us a 5-star review on Apple Podcasts and share us with a friend. It's incredibly helpful in getting us exposed to new listeners through algorithms, so we would greatly appreciate your help. Thank you for listening to our Nintendo podcast!
Podcast Discord: http://tiny.cc/NintendoEverythingPod
Timestamps:
– 03:50 – Adventure Log: Animal Crossing Halloween, Baldur's Gate 3
– 15:00 – Adventure Log: Hyrule Warriors: Age of Calamity
– 43:05 – News: EA fined over loot-boxes
– 51:30 – News: Nintendo Direct Mini: October Partner Showcase
– 1:49:00 – Additional DLC
– 1:54:00 – Listener Mail: the art form that is video games and its impact on us
Additional DLC:
– Why the Resident Evil Movies Matter (Comicspooks)
youtu.be/9vsJ4cQtrxk
Business inquiries and listener mail contact:
YouTube
Apple Podcasts / iTunes: https://apple.co/2xLl0C5
Spotify: https://spoti.fi/2Gdgoch
Direct Download
PocketCasts: https://pca.st/IQVa
Stitcher: https://bit.ly/30uxOZR
PlayerFM: https://bit.ly/2yfCu9P
ListenNotes: https://bit.ly/2SINTbG
PodTail: https://bit.ly/2yfDgDL
Oni Dino's Twitter: @Oni_Dino
Oni Dino's Insta: Oni__Dino
Galen's Twitter: @mobius087
Galen's Insta: true_mobius
HUGE thank you to Headphones of Listening for NEP's intro music! Check him out on soundcloud!
Last week's episode here.
Leave a Reply