[Nintendo Everything Podcast] – episode #104 – The Garden of Madness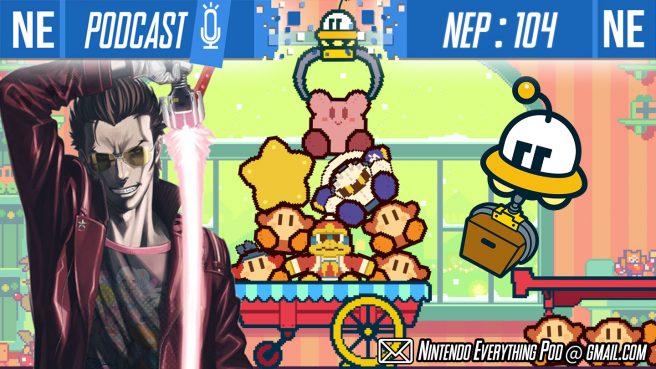 This week on Nintendo Everything Podcast, we're back to talk about No More Heroes and Part Time UFO. Galen also critiques the Animal Crossing: New Horizons Halloween event and has thoughts on upcoming seasonal events, too. Oni Dino beat Trials of Mana, and it's a mixed bag. And to mark the release of the PS5 and Xbox SX, we consider the routes Nintendo could go down in the second half of the Switch's life. Pro version? Full handheld? A new console entirely?
We also have a podcast discord for listeners to chill, chat, and make friends. Check out links and timestamps below and come hang out.
If you're enjoying NEP, please consider giving us a 5-star review on Apple Podcasts and share us with a friend. It's incredibly helpful in getting us exposed to new listeners through algorithms, so we would greatly appreciate your help. Thank you for listening to our Nintendo podcast!
Podcast Discord: http://tiny.cc/NintendoEverythingPod
Timestamps:
– 03:59 – Adventure Log: Animal Crossing: New Horizons Halloween
– 12:12 – Adventure Log: No More Heroes
– 32:12 – Adventure Log: Part Time UFO
– 40:49 – Adventure Log: Trials of Mana post-game
– 49:15 – News: Switch outsells everything, AC Updates
– 1:03:34 – Additional DLC
– 1:08:42 – Listener Mail
Additional DLC:
– No, Gillette Did Not Lose $8 Billion Because of a "Woke" Ad – José
ttps://youtu.be/xDvPVzPRiYA
– Helluva Boss Pilot and Episode 1 (Viziepop)
ttps://youtu.be/OlahNrlcgS4
ttps://youtu.be/el_PChGfJN8
– Resident Evil 3 be like…
ttps://youtu.be/UFWTvTI0BK8
Business inquiries and listener mail contact:
#nintendopodcast #gamingpodcast #podcast
YouTube
Apple Podcasts / iTunes: https://apple.co/2xLl0C5
Spotify: https://spoti.fi/2Gdgoch
Direct Download
PocketCasts: https://pca.st/IQVa
Stitcher: https://bit.ly/30uxOZR
PlayerFM: https://bit.ly/2yfCu9P
ListenNotes: https://bit.ly/2SINTbG
PodTail: https://bit.ly/2yfDgDL
Oni Dino's Twitter: @Oni_Dino
Oni Dino's Insta: Oni__Dino
Galen's Twitter: @mobius087
Galen's Insta: true_mobius
HUGE thank you to Headphones of Listening for NEP's intro music! Check him out on soundcloud!
Leave a Reply