[Nintendo Everything Podcast] – episode #109 – Two Japanese pastimes and the Bidinko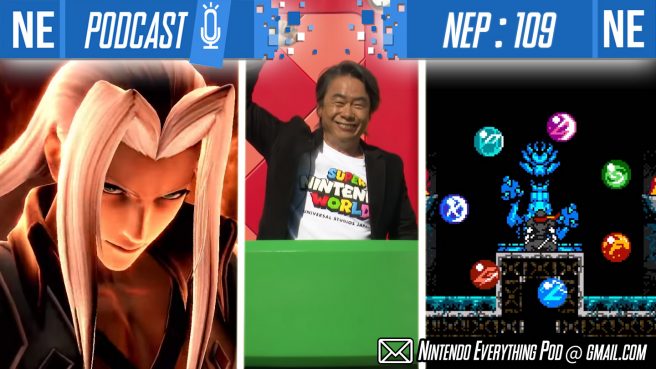 This week on Nintendo Everything Podcast, we've got so much news to talk about, despite being the very end of the year. Galen's been playing Cyberpunk 2077, so we dive into the controversy, first-hand and second-hand experiences. We've also got Sephiroth impressions, Indie World Showcase recap, and Super Nintendo World recap. Did we really get three directs in one week (more or less)? We're also picking the winner of the Twitter giveaway, too! Listen to the opening of the show to see who won.
If you're enjoying NEP, please consider giving us a 5-star review on Apple Podcasts and share us with a friend. It's incredibly helpful in getting us exposed to new listeners through algorithms, so we would greatly appreciate your help. Thank you for listening to our Nintendo podcast!
Timestamps:
05:08 – Adventure Log: Cyberpunk 2077 and controversy
38:35 – News: Sakurai Presents Sephiroth
54:35 – News: Indie World Showcase and both of our cats
1:11:05 – News: Super Nintendo World Direct at Universal Studios Japan
1:23:39 – Additional DLC
1:27:13 – Listener Mail
Additional DLC:
– Japan-only PS2 Games (ThorHighHeels): https://youtu.be/pQsEQCK0O54
– Animator vs. Animation: https://youtu.be/TF9I1GxNdJQ
Business inquiries and listener mail contact: [email protected]
YouTube
Apple Podcasts / iTunes: https://apple.co/2xLl0C5
Spotify: https://spoti.fi/2Gdgoch
Direct Download
PocketCasts: https://pca.st/IQVa
Amazon / Audible: https://adbl.co/2H2Uj3S
Stitcher: https://bit.ly/30uxOZR
PlayerFM: https://bit.ly/2yfCu9P
ListenNotes: https://bit.ly/2SINTbG
PodTail: https://bit.ly/2yfDgDL
Oni Dino's Twitter: @Oni_Dino
Oni Dino's Insta: Oni__Dino
Galen's Twitter: @mobius087
Galen's Insta: true_mobius
HUGE thank you to Headphones of Listening for NEP's intro music! Check him out on soundcloud!
Leave a Reply