[Nintendo Everything Podcast] – episode #70 – JRPG Megacast: Critiquing Final Fantasy VII Remake (feat. Barry from Nintendo Fuse)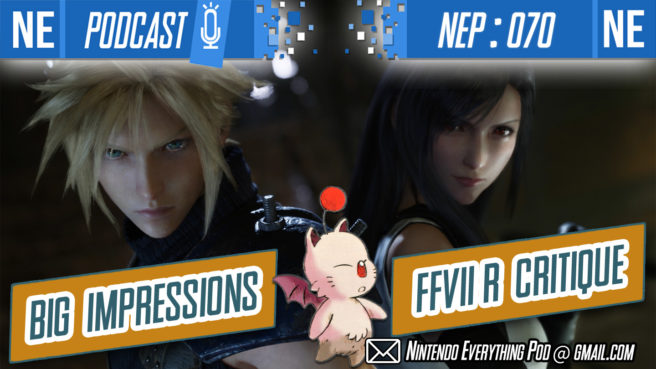 Hello my beautiful materia! This week on NEP, we're joined by special guest and JRPG expert: Barry from the Nintendo Fuse Podcast. This episode is all JRPG and Square-Enix focused, as we examine the more recent years of Square-Enix (with some love for the classics, too, of course!). Oni Dino also goes into his impressions at length about the demo of Final Fantasy VII Remake, sharing his love and frustration.
Topics include FFXIII trilogy, XIV, XV the Kingdom Hearts series, and more. We end up asking the question, "What can Square-Enix do to revitalize the series?" "What if the FFVII series of releases starts to underperform?" and "Are consumers giving this release structure a dangerous pass?" The main topic of the FFVII Remake demo leads us to talk about the issue of selling the game in multiple parts over multiple generations of hardware and over (presumably) multiple decades. We've got three very different, and very opinionated perspectives. Join us, as we take a very deep dive to examine the character writing, the battle system, controls, camera and more of Final Fantasy VII Remake's demo.
If you're enjoying NEP, please consider giving us a 5 star review on Apple Podcasts, aka new iTunes. It's incredibly helpful in getting us exposed to new listeners through algorithms, so we would greatly appreciate your help. Thank you for listening!
Timestamps:
10:20 – Adventure Log: Galen gabs about Snack World!
10:20 – Adventure Log: Barry
30:24 – Adventure Log: Final Fantasy VII Remake demo. Impressions, critiques, love and hate. Unhealthy mindsets that are anti-critique. Unhealthy mindsets in attributing a part of your personality to a product, then getting personally offended when a stranger doesn't like the product.
56:20 – Getting back to FFVIIR demo impressions. How will Square-Enix pull this off?
2:03:19 – Additional DLC
2:07:23 – Listener Mail: What games did we miss out on their original version, but we played the remakes? Also, what games deserve to be remade? So on-brand with the episode topic.
Additional DLC:
Business inquiries and listener mail contact:
[email protected]gmail.com
Listener Bonus: Help the show grow and support us by giving us ☆5 STAR☆ iTunes review! Thank you!
YouTube
Apple Podcasts / iTunes: https://apple.co/2xLl0C5
Spotify: https://spoti.fi/2Gdgoch
Direct Download
PocketCasts: https://pca.st/IQVa
Stitcher: https://bit.ly/30uxOZR
PlayerFM: https://bit.ly/2yfCu9P
ListenNotes: https://bit.ly/2SINTbG
PodTail: https://bit.ly/2yfDgDL
Oni Dino's YouTube "Gayme Married": https://bit.ly/2JK21xd
Oni Dino's Twitter: @Oni_Dino
Oni Dino's Insta: Oni__Dino
Galen's Twitter: @mobius087
Galen's Insta: true_mobius
HUGE thank you to Headphones of Listening for NEP's intro music! Check him out on soundcloud!
Ending song by ApproachingNirvana on YouTube!
Leave a Reply