[Nintendo Everything Podcast] – episode #74 – Interview with Joe Zieja; Mario remaster rumors!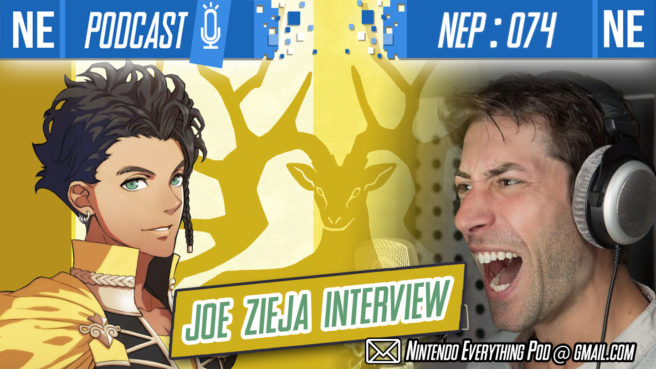 Hello my remastered listeners—you're all lookin' great! This week on Nintendo Everything Podcast, we have a special guest: Mr. Joe Zieja, decordated voice actor and superhuman talent. Join us for a candid talk with Joe and learn how he became who he is today. Joe tells us his story of life in the voice acting industry, his experience in the Air Force and military, embracing the Fire Emblem community and so much more.
Further, Oni Dino and Galen cover the Super Mario remaster rumors that were quite the storm this past week, Galen's got a stronger grasp on Animal Crossing: New Horizons—the good and the bad, and the gang finishes things off in the listener mail segment with an in-depth discussion of the state of Final Fantasy over the decades.
If you're enjoying NEP, please consider giving us a 5 star review on Apple Podcasts, and share us with a friend. It's incredibly helpful in getting us exposed to new listeners through algorithms, so we would greatly appreciate your help. Thank you for listening!
Timestamps:
05:44 – Adventure Log: following up with Animal Crossing.
20:01 – Interview with Joe Zieja, voice of Claude von Riegan of Fire Emblem: Three Houses.
1:19:03 – News: Super Mario rumors! Remasters of Mario 64, Sunshine, Galaxy 1 & 2; DX version of 3D World; brand new Paper Mario title akin to Thousand Year Door? Then IGN hosting Summer of Gaming in lieu of E3!
1:45:45 – Additional DLC
1:53:11 – Listener Mail: The state of Final Fantasy
Additional DLC:
Business inquiries and listener mail contact:
NintendoEverythingPod@gmail.com
Listener Bonus: Help the show grow and support us by giving us ☆5 STAR☆ iTunes review! Thank you!
YouTube
Apple Podcasts / iTunes: https://apple.co/2xLl0C5
Spotify: https://spoti.fi/2Gdgoch
Direct Download
PocketCasts: https://pca.st/IQVa
Stitcher: https://bit.ly/30uxOZR
PlayerFM: https://bit.ly/2yfCu9P
ListenNotes: https://bit.ly/2SINTbG
PodTail: https://bit.ly/2yfDgDL
Oni Dino's YouTube "Gayme Married": https://bit.ly/2JK21xd
Oni Dino's Twitter: @Oni_Dino
Oni Dino's Insta: Oni__Dino
Galen's Twitter: @mobius087
Galen's Insta: true_mobius
HUGE thank you to Headphones of Listening for NEP's intro music! Check him out on soundcloud!
Ending song is a remix by Joe Zieja!
Leave a Reply