[Nintendo Everything Podcast] – episode #76 – Expansive and reductive Final Fantasy VII Remake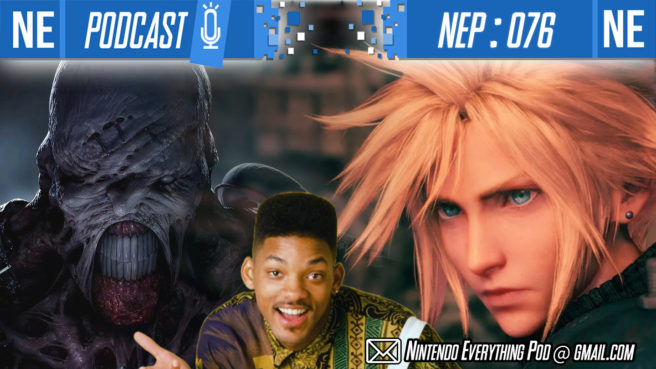 Hello my avalanche cuties! This week on Nintendo Everything Podcast, we're talking remakes: Resident Evil 3 and Final Fantasy VII, with plenty of critique on the good, the bad and the horny Jessie. We cover some quick-fire news with a new Switch hardware model being referenced in some firmware code, Gamescom cancellation, game announcements and Jason Schreier leaving Kotaku. And in the listener mail segment, we admit our embarrassing rage moments while gaming. Come hang out and have a chill game time.
If you're enjoying NEP, please consider giving us a 5 star review on Apple Podcasts, and share us with a friend. It's incredibly helpful in getting us exposed to new listeners through algorithms, so we would greatly appreciate your help. Thank you for listening!
Timestamps:
07:57 – Adventure Log: Galen's Resident Evil 3 foibles.
x – Adventure Log: Galen's Animal Crossing busy work.
41:09 – Adventure Log: Man-child Oni Dino gets overly emotional about Final Fantasy VII Remake
1:20:10 – News rush! Switch firmware update and new hardware model referenced in the code. Gamescom cancelled, but they'll have a digital event. Several game announcements and release dates clarified (Crysis, Spongebob, Jump Force). Jason Schrier leaving Kotaku.
1:41:59 – Additional DLC
1:43:33 – Listener Mail
Additional DLC:
Business inquiries and listener mail contact:
[email protected]gmail.com
#nintendopodcast #gamingpodcast #podcast
YouTube
Apple Podcasts / iTunes: https://apple.co/2xLl0C5
Spotify: https://spoti.fi/2Gdgoch
Direct Download
PocketCasts: https://pca.st/IQVa
Stitcher: https://bit.ly/30uxOZR
PlayerFM: https://bit.ly/2yfCu9P
ListenNotes: https://bit.ly/2SINTbG
PodTail: https://bit.ly/2yfDgDL
Oni Dino's YouTube "Gayme Married": https://bit.ly/2JK21xd
Oni Dino's Twitter: @Oni_Dino
Oni Dino's Insta: Oni__Dino
Galen's Twitter: @mobius087
Galen's Insta: true_mobius
HUGE thank you to Headphones of Listening for NEP's intro music! Check him out on soundcloud!
Leave a Reply