[Nintendo Everything Podcast] – episode #81 – What will happen to Switch when PS5, Xbox SX launch?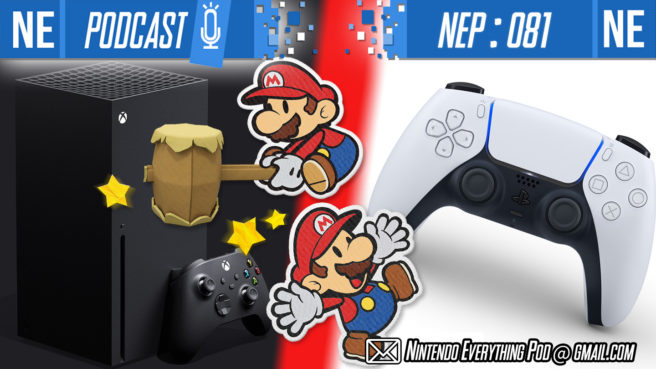 Hello my Switch Lites and Switch Pros! This week on Nintendo Everything Podcast, we're announcing the winner of The Wonderful 101 Remastered giveaway. We then critique our experiences with some lovely, smaller JRPGs: Child of Light and Underhero. Afterward, we explore industry talk and current trends: what's going to happen with the Switch moving forward into the new console generation? A Switch Pro? Go harder on mobile? External graphics card? A new dedicated home console in tandem with Switch being a dedicated handheld? Possibilities abound! Check out links and timestamps below, and come hang out.
If you're enjoying NEP, please consider giving us a 5 star review on Apple Podcasts, and share us with a friend. It's incredibly helpful in getting us exposed to new listeners through algorithms, so we would greatly appreciate your help. Thank you for listening!
Timestamps:
11:42 – Adventure Log: Galen's Child of Light experience.
29:58 – Adventure Log: Oni Dino's Underhero surprise.
44:25 – News: New Game Plus Expo Showcase announced for June. Another E3 style experience.
50:46 – Industry discussion: what will happen to Nintendo Switch when Sony's PlayStation 5 and Microsoft's Xbox Series X launch?
1:20:46 – Additional DLC
1:25:20 – Listener Mail: drawing inspiration from games.
Additional DLC:
Business inquiries and listener mail contact:
[email protected]gmail.com
#nintendopodcast #gamingpodcast #podcast
YouTube
Apple Podcasts / iTunes: https://apple.co/2xLl0C5
Spotify: https://spoti.fi/2Gdgoch
Direct Download
PocketCasts: https://pca.st/IQVa
Stitcher: https://bit.ly/30uxOZR
PlayerFM: https://bit.ly/2yfCu9P
ListenNotes: https://bit.ly/2SINTbG
PodTail: https://bit.ly/2yfDgDL
Oni Dino's YouTube "Gayme Married": https://bit.ly/2JK21xd
Oni Dino's Twitter: @Oni_Dino
Oni Dino's Insta: Oni__Dino
Galen's Twitter: @mobius087
Galen's Insta: true_mobius
HUGE thank you to Headphones of Listening for NEP's intro music! Check him out on soundcloud!
Ending song by BotanicSage on YouTube! Check him out!
Leave a Reply