[Nintendo Everything Podcast] – episode #82 – E3 Direct imminent? Personally offended.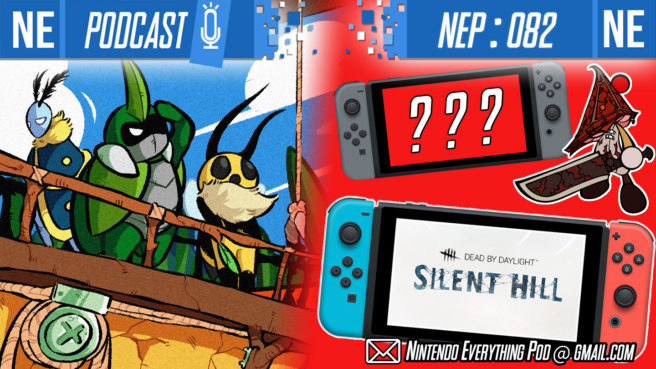 Hello my lovely inklings and octolings! This week on Nintendo Everything Podcast, we're talking about the best Paper Mario game of 2020: Bug Fables. Then it's on to pre-not-E3 hype (?) with more digital events, Silent Hill collab with Dead by Daylight, Amazon France's mystery listings for Switch games, and a discussion of over-identifying with media. Have you ever taken personal offense to someone's criticism of a thing you love? We've both got personal stories and ways to avoid it.
Check out links and timestamps below, and come hang out.
If you're enjoying NEP, please consider giving us a 5 star review on Apple Podcasts, and share us with a friend. It's incredibly helpful in getting us exposed to new listeners through algorithms, so we would greatly appreciate your help. Thank you for listening!
Timestamps:
06:57 – Adventure Log: Bug Fables is the best Paper Mario in 2020.
23:40 – Adventure Log: The Bearded Lady's Poo Poo Platter: God of War, Child of Light, Destiny 2.
30:21 – Adventure Log: Super Mario Odyssey motion and control problems.
34:43 – News: More digital video game events, in replacement of E3.
45:15 – News: Dead By Daylight x Silent Hill collaboration.
54:36 – News: Amazon France lists a bunch of games.
1:07:10 – Additional DLC
1:14:23 – Listener Mail: expanding on last week's email; unhealthily identifying with media or a character and taking offense to criticism.
Additional DLC:
Business inquiries and listener mail contact:
NintendoEverythingPod@gmail.com
#nintendopodcast #gamingpodcast #podcast
YouTube
Apple Podcasts / iTunes: https://apple.co/2xLl0C5
Spotify: https://spoti.fi/2Gdgoch
Direct Download
PocketCasts: https://pca.st/IQVa
Stitcher: https://bit.ly/30uxOZR
PlayerFM: https://bit.ly/2yfCu9P
ListenNotes: https://bit.ly/2SINTbG
PodTail: https://bit.ly/2yfDgDL
Oni Dino's Twitter: @Oni_Dino
Oni Dino's Insta: Oni__Dino
Galen's Twitter: @mobius087
Galen's Insta: true_mobius
HUGE thank you to Headphones of Listening for NEP's intro music! Check him out on soundcloud!
Leave a Reply