[Nintendo Everything Podcast] – episode #97 – Monster Hunter is the best it's ever been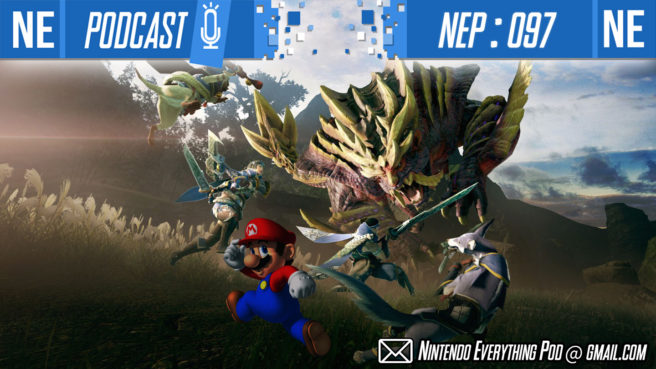 This week on Nintendo Everything Podcast, two Nintendo Directs came out and they're pretty fresh! Monster Hunter Rise and Stories 2 look so tempting, and so many other games have us looking forward to the future. Also, Mario 3D All-stars is apparently emulated, but…is that really a problem? We also throw in some next-gen talk with the recent PS5 price and pre-order situation.
Check out links and timestamps below and come hang out.
If you're enjoying NEP, please consider giving us a 5-star review on Apple Podcasts, and share us with a friend. It's incredibly helpful in getting us exposed to new listeners through algorithms, so we would greatly appreciate your help. Thank you for listening!
Timestamps:
– 03:57 – Adventure Log: Castle Crashers Remastered
– 14:30 – Adventure Log: Manifold Garden update
– 20:24 – Adventure Log: Super Mario 3D All-stars: Super Mario 64
– 31:58 – News: Nintendo 3DS stops production. Nintendo Direct Mini: Monster Hunter is the best it's ever been.
– 1:15:19 – PS5 and new-gen talk.
– 1:36:08 – Additional DLC
– 1:41:04 – Listener Mail: Games we replay annually
Additional DLC:
– Fortnite Debacle
https://youtu.be/2tQddjlXj6o
https://youtu.be/8qZkl9CKgjI
https://youtu.be/irkDgW0s294
Business inquiries and listener mail contact:
YouTube
Apple Podcasts / iTunes: https://apple.co/2xLl0C5
Spotify: https://spoti.fi/2Gdgoch
Direct Download
PocketCasts: https://pca.st/IQVa
Stitcher: https://bit.ly/30uxOZR
PlayerFM: https://bit.ly/2yfCu9P
ListenNotes: https://bit.ly/2SINTbG
PodTail: https://bit.ly/2yfDgDL
Oni Dino's Twitter: @Oni_Dino
Oni Dino's Insta: Oni__Dino
Oni Dino's interactive podcast on GetVokl: https://bit.ly/3mdWamo
Galen's Twitter: @mobius087
Galen's Insta: true_mobius
HUGE thank you to Headphones of Listening for NEP's intro music! Check him out on soundcloud!
Ending song by TleYeon
Leave a Reply