Nintendo survey hints at Zelda: Tears of the Kingdom details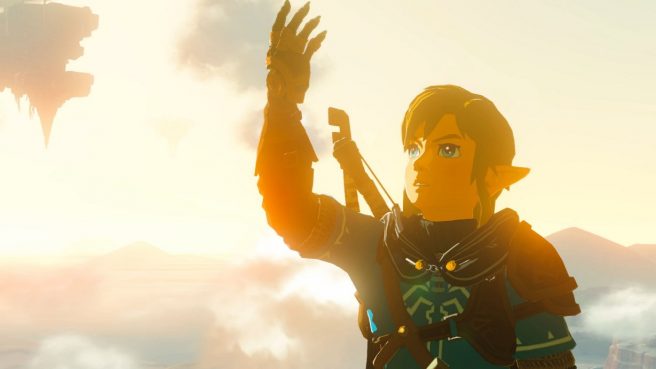 The Legend of Zelda: Tears of the Kingdom received its latest trailer this week, but Nintendo has been very careful in which it's choosing to show. Even though the game is just a few months out, there's not a ton we know. It'll naturally be a follow-up to Breath of the Wild and that alone should give us a decent idea as to what we can expect, but fans are interested in finding out how the sequel will set itself apart.
Hints of what Tears of the Kingdom will have to offer have now been spotted via a Nintendo survey that went out this week. A couple of Reddit users say that this was emailed to them (once in France, another presumably in the UK).
After the participant watches a video for the game, Nintendo asks what they think about two statements mentioning that Tears of the Kingdom will be bigger than Breath of the Wild. This is something that shouldn't come as a surprise – not only can you explore Hyrule, but there'll be the sky to visit as well.
There are a couple of other interesting statements in the survey as well. The first says that Tears of the Kingdom "will include new and interesting ways to interact with the world compared to The Legend of Zelda: Breath of the Wild." Another says the game "will have the best story / atmosphere of any game in the series".
When asked which features sound most interesting, options include battling new enemy types, exploring new areas like islands floating in the sky, building and riding new vehicle types, seeing how Hyrule locations have changed, new abilities, a "dark and thrilling atmosphere", and a new story. Some of these are quite obvious while others have been hinted at in trailers, including the one that went out this week.
We'll highlight a couple of other things as well. Regarding the story, the survey mentions: "In The Legend of Zelda: Tears of the Kingdom, you embark on a grand adventure that pits Link and Zelda against a dangerous force. Your loyalty to each other will prevail in a story that occurs after the events of the previous game. You will encounter many thrills and fears on your quest to save the land of Hyrule." Finally, when asked what they'd like to know about before release, there are numerous options including puzzles / shrines.
While a screenshot from the survey wasn't shared, there was a question asking about which feature they'd like to see return the most. Dungeons were an option, but this doesn't confirm they'll be coming back.
You can find screenshots taken from the Zelda: Tears of the Kingdom survey below.
The Legend of Zelda: Tears of the Kingdom launches for Switch on May 12, 2023.
Leave a Reply