Nintendo taking down Yoshi's Cookie from European Wii Shop Channel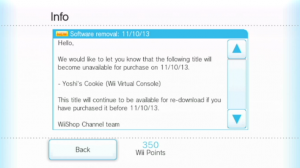 Nintendo will be removing Yoshi's Cookie from the European Wii Shop Channel later this week, according to a message posted on the digital store. The Virtual Console game will no longer be available for purchase as of October 11.
The notice does not provide a reason for the removal of Yoshi's Cookie.
Leave a Reply