Nintendo's SDCC 2015 plans – lineup, tournaments, and more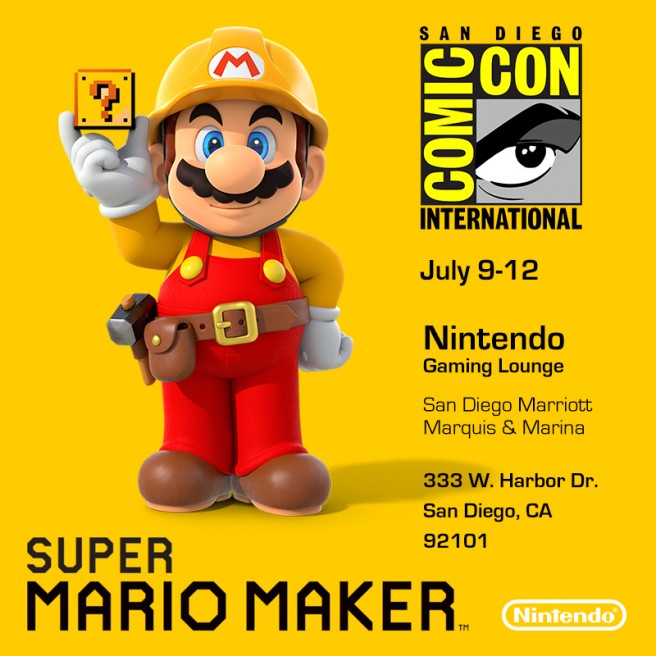 Nintendo has shared its extensive plans for San Diego Comic-Con 2015.
First, here's a look at the company's lineup for the show:
Wii U
Super Mario Maker from Nintendo
Yoshi's Woolly World from Nintendo
Super Smash Bros. for Wii U from Nintendo
Splatoon from Nintendo
Skylanders SuperChargers from Activision
Nintendo 3DS
Chibi-Robo!: Zip Lash from Nintendo
The Legend of Zelda: Tri Force Heroes from Nintendo
Little Battlers eXperience from Nintendo
YO-KAI WATCH from Nintendo
All of these games are playable at Nintendo's booth (No. 235). They'll also be featured at the Nintendo Gaming Lounge in the San Diego Marriott Marquis & Marina (333 W. Harbor Drive, San Diego, CA 92101), which doesn't a Comic-Con badge for entry. The lounge will be open from 10 AM to 7 PM July 9-11 and 10 AM to 5 PM on July 12.
The Nintendo Gaming Lounge will highlight Super Mario Maker in a big way. Those who stop by can "view a stage show in which members of the Nintendo Treehouse will demonstrate the game's features, including level-creation techniques that will help people easily create custom levels in the game to share with friends." The voice of Mario, Charles Martinet, will also be on hand.
That's not all though. Tournaments are planned for Splatoon, Pokemon Omega Ruby/Alpha Sapphire, and Super Smash Bros. for Wii U.
Head past the break for the rundown of the different tournaments, plus information about Little Battlers eXperience to win collectible figures.
On Saturday, July 11, Nintendo will host its first-ever Super Smash Bros. for Wii U Championship Tournament for kids 12 and under. The winner of this tournament will receive an amiibo prize pack containing Ness, Greninja, Jigglypuff, Charizard, PAC-MAN, Wario, Robin, Lucina and Mario – Gold Edition amiibo figures. Nintendo will also host a Super Smash Bros. for Wii U amiibo team competition

Pokémon trainers of all ages can show off their skills in a tournament featuring Pokémon Omega Ruby and Pokémon Alpha Sapphire. The one-day-only tournament takes place on July 12 and winners will receive a New Nintendo 3DS XL system and five Pokémon amiibo figures (Charizard, Greninja, Jigglypuff, Lucario and Pikachu).
Fans looking to ink their way to victory and win a Splatoon hat and the Splatoon amiibo three-pack will have their chance in a series of Splatoon mini-tournaments on July 9 and July 12:
Fans that visit the Nintendo Gaming Lounge on Sunday, July 12, will have the opportunity to compete for entries for drawings to win collectible figures featured in the upcoming Nintendo 3DS game Little Battlers eXperience:
Game

Date

Registration Times

Age Restriction

Little Battlers eXperience

July 9-11
12 p.m., 3 p.m., 5 p.m.
All ages
July 12
12 p.m., 3 p.m.
All ages
Source: Nintendo PR
Leave a Reply