Octopath Traveler producer on the name, why it's for Switch, potential future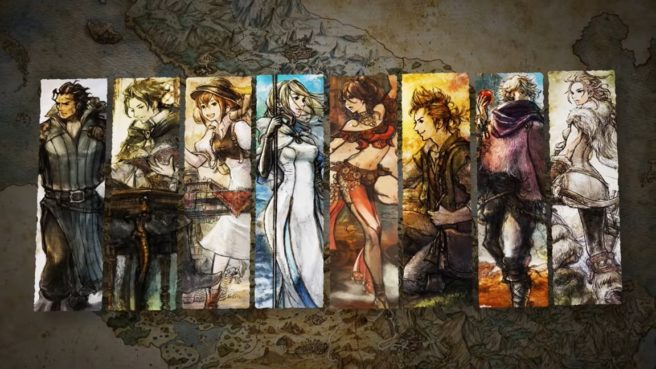 Eurogamer put up a new Octopath Traveler piece today featuring comments from producer Masashi Takahashi. Takahashi discussed the name, why the RPG is releasing on Switch, and the game's potential future.
Below are those comments:
On the name…
"About that name… Octo as you maybe know means eight, and path is a synonymous way of saying travel. There are eight destinies, eight characters, so Octopath – it's the way of their destiny, and 'Traveler' is because of travelling, of course. When we were asking our localisation team, there were so many ideas, we wanted to express these eight characters' travel – this was just one of the ideas, and we went for it because we needed a name that was easy to remember for Japanese people. You know, Octopath, it sounds to Japanese people like Octopus – and Octopus is an English word which is very well known among Japanese people."
On going with Switch…
"There's two reasons for Switch. We already had experience with Nintendo with Bravely Default, and we'd decided to have Octopath as a worldwide experience. When we had to search for a partner for that, we had real confidence in Nintendo for that. And it's an RPG – that means you have to play a long time, and because our target audience was adults – like us – it's hard for us to be seated on the sofa for so long. Our lifestyle, you want to play in bed before you sleep for an hour.
When we started to make Octopath Traveler, the Switch wasn't ready! It was just a prototype – we didn't know that much about the hardware. We just started because we wanted to make an RPG for a handheld system, but we didn't really know what hardware it was going to be.
No-one could imagine the Switch becoming such a phenomenon – it was new hardware. At first, people were like 'are you sure, it's new hardware, it's risky…' But we trusted that if we made a great game players would follow us into our trial."
On the future…
"We really want the first concept we sell at full price to be 100 per cent of the game, so there won't be any DLC in the future. As for Octopath as a series, it depends on the sales – if the players like the game it could be an opportunity, yes. But it's still not out yet, so we'll see!"
You can find the full piece on Eurogamer here.
Leave a Reply