Okamiden Chibiterasu PVC statue on the way from First 4 Figures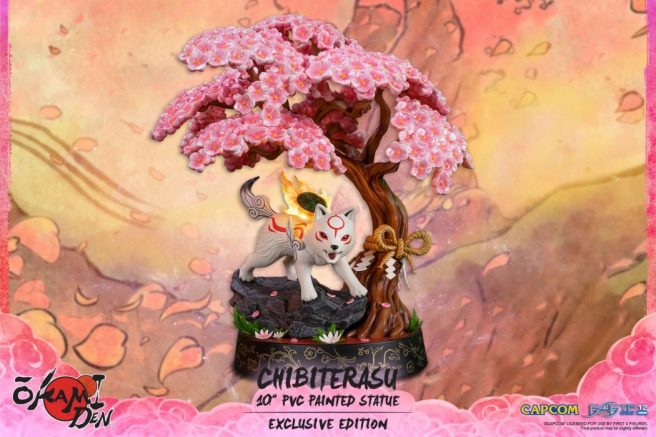 First 4 Figures today unveiled its latest Okamiden statue, the Chibiterasu PVC. This follows the Chibiterasu vs. Dark Chibiterasu & Possessed Kuni product we reported on at the end of 2020.
Each unit contains the Chibiterasu PVC painted statue, highly detailed base inspired by Okami art style, Divine Retribution weapon with two LED functions, premium deluxe box, authentication card, and limited edition numbering. More information can be found below.
First 4 Figures is proud to present their latest PVC collectible, Chibiterasu PVC. Chibiterasu is the main protagonist of Okamien. The celestial wolf pup is also the son of the Celestial Brush Goddess of the Sun, Amaterasu! And just like his mother, he wields a smaller Divine Retribution on his back. He is all white with ruby-red markings and a tail that's shaped like a calligraphy brush.

Determined and loyal, he saves the people of Nippon with the help of his partners and friends, whom he meets along the way! His adorable persona is wonderfully captured in our statue with his ready-to-play pose! The base is beautifully adorned with the Okami symbol and a Sakura tree with traditional Japanese rope detail.

The Exclusive Edition will include 2 LED functions: Static and Animated for Chibiterasu's Divine Retribution. Furthermore, you will also receive a beautifully designed signature Premium Deluxe Box which complements its contents and may serve as a display.
And here's a video showing off the Okamiden Chibiterasu PVC statue from First 4 Figures:
Pre-orders are open open on First 4 Figures' website here. There's an estimated ship date of Q4 2022.
Leave a Reply