Our exclusive visit to Tokyo's Square Enix Cafe for the Octopath Traveler experience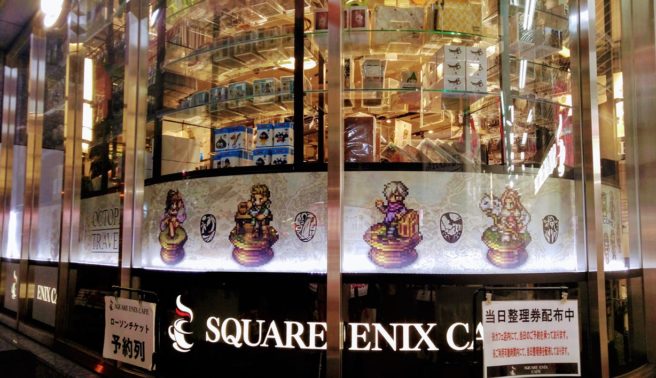 Located in Tokyo's nerd Mecca, Akihabara, the Square Enix Café features a rotating menu and a variety of changing themes. This time around, from June 30 to August 10, the Switch exclusive Octopath Traveler is heavily featured with all sorts of limited edition merchandise, food and drinks inspired by the game, decorations and art. I visited the café in order to get first-hand impressions to share with our readers.
Upon arriving, I was greeted by the vibrant lights of "SQUARE ENIX CAFÉ" illuminating the streets and benches. The eye-catching pixel art of the eight travelers lined the outside windows with other designs, including some Dragon Quest merchandise for good measure – it's Japan, after all. Stepping into the foyer, a podium with wait staff greeted me and had me choose a timeslot of two hours from a selection. This is in order to stagger bookings for the staff and to turn tables to accommodate as many guests as possible. No reservation was necessary, but the evening I went was not particularly busy.
After selecting, I was welcomed to visit the two different gift shops they had: one specializing in limited edition Octopath Traveler goods, and one general Square Enix shop. The merchandise on display was a collector's dream! Ranging from keychains and small placemats to posters and figures, there was something for everybody. Lining every inch of the walls (and even some parts of the floor) was promotional and development art of Octopath Traveler and its characters. Having played the beta demo nearly one year ago, I was only familiar with Primrose and Olberic, but that didn't stop me from being awestricken by the gorgeous artwork from artists Naoki Ikushima and Mika Iizuka. Artwork ranged from promotional material to development sketches and character trait descriptions, all the way to select fan art and messages of encouragement to the development staff. The unique and charming world of the game could be felt in an instant by my dining partner, who was unfamiliar with current gen gaming, including the Switch and Octopath Traveler.
It's a fair assessment to say that the ambiance appealed to seasoned JRPG veterans who have been following this game's release to the tee, such as myself, and also appealed to a rusty gamer who hasn't picked up a controller since 1995 with the Super Nintendo.
Once our timeslot came around, we were ushered into the elevated dining space with even more gorgeous artwork lining the walls. Multiple TV screens played videos of the developers describing the game's mechanics, story and characters in accompaniment.
Our server informed us the basics of how the restaurant works – the Square Enix Café is different from other character or theme cafés in Akihabara. You're not called "master" by staff and you're not berated with uncomfortable slogans or dances to repeat before you start eating. Instead, you order food and drinks more or less like any other café. It's a much more relaxing and personal experience, which I greatly appreciated.
We browsed food and drinks on the menu via a small tablet, which was also themed after Octopath Traveler. Recipes were all inspired by in-game food and each item's description even contained lore! Drinks were all modeled after the main characters with intriguing flavor profiles and strange combinations that fit each character's personality and even their looks. Only half of the menu was on offer at the time; the other half of the menu will replace the current offerings from July 21 onward, so a second visit may be in order! Below are descriptions of the food and drinks that were available during my visit.
---
OCTOPATH RICE BOWL
It may look like your typical Okinawan-style "taco rice" at first glance, but the "meat" is actually seasoned ground octopus! It may sound odd, but the taste quickly won over the hearts of the entire development team. A true culinary masterpiece worthy of the Octopath name!
OCTOPATH TAKOYAKI FONDUE
A twist on the popular Japanese street food, this dish features fried popovers filled with succulent diced octopus and fondue cheese, seasoned with okonomiyaki sauce and spicy cod roe mayonnaise. Topped with parmesan cheese and oven baked, the dish is sure to delight discerning travelers from all over!
HUNTER'S PLATTER
Feast on wild game meat fresh from the hunt, with a side of scrumptious sweetdough. The latter has been prepared according to H'aanit's own recipe, refined through years of preparing her own food night after night as she and her master pursued their prey.
GOAT'S MILK CHEESE AND HIGHLANDS BREAD
Olberic's home in the Highlands is notable for its wild goat population, and the rich cheese made from their milk has been one of the warrior's favorites since childhood. Enjoy it on thickly sliced bread and topped off with a drizzle of honey.
SACRED FLAME BEAN SOUP
This simple-yet-hearty dish is a staple at the Church, where Ophelia has served since her early years. With lentil beans in a tomato and consommé broth, it's sure to warm the heart and soul. Includes a small bun for added nourishment.
STOLEN APPLE SHERBET BRÛLÉE
As a thief, Therion doesn't have much occasion to cook, but he sure likes his apples. We sliced one in half, made it into sherbet, then topped it off with custard and torched it to caramelize the surface. Around it, you'll find multicolored gelatin beans representing the four dragonstones he seeks.
ALFYN GREENGRASS (DRINK)
Barkeep: "One time I had a nasty headache, and Alfyn mixed me a tonic that had me feeling better in no time. He wouldn't accept any payment for it, so I whipped up this drink up for him instead. The refreshing taste and green color make you think of an apothecary, wouldn't you say?"
(A green apple-based soda, with green mint syrup that can be added as you like.)
CYRUS ALBRIGHT (DRINK)
Barkeep: "That Cyrus is a strange one, all right. He's always reading books in my tavern, like it's a library or somethin'. More often than not, the ladies are all over him, and yet he barely bats an eyelash. Grrr, what I wouldn't give for his good looks…"
(A simple, unsweetened tea topped with foam and gold flakes.)
PRIMROSE AZELHART (DRINK)
Barkeep: "You heard about that dagger Primrose carries? Well, I did, and it inspired me to whip up this cocktail I named for her. The reddish color symbolizes her burning desire for revenge, but it has an elegant taste befitting the highborn daughter of a noble house."
(An alcoholic beverage that blends beer and blood orange juice.)
TRESSA COLZIONE (DRINK)
Barkeep: "Tressa herself is too young to drink, so I mixed this up for her. She'd barely taken one sip before she started asking what was in it, where I got the ingredients, and how much they cost. A merchant to the end, that one. By the time she emptied the glass, I'd spilled all my secrets. Ah, well…can't win 'em all, eh?"
(A breezy, tropical beverage garnished with whipped cream and white chocolate.)
---
Dishes and drinks all came one by one. The quality of the food was nothing too special, sans the Stolen Apple Sherbet Brûlée, but the drinks were quite nice. Tressa's drink tasted like orange cream, and Primrose's drink was a rich fruit flavor with a hint of hops. All of the presentation was top-notch camera fodder, though. The creativity put into the menu is the real attraction here.
After eating, we spent way too much time and money in the gift shops. I can't get enough of the art, so I purchased several posters and also a chocobo bag for good measure – who can resist those cute little guys?
Completely separate from the Square Enix Café in Tokyo, I went to Osaka a few days later and serendipitously found myself right next to Square Enix Café Osaka. Located in the underground shopping areas between Umeda station and Osaka station, the café is tucked away in a cute area right by the escalators. I didn't have time to dine there, but I took a few photos of the outside for our readers' enjoyment. The food, merchandise and decorations were all thankfully the same as Tokyo from my assessment.
All in all, I would highly recommend a visit to either café if you get the chance. Go for the ambiance, the incredible presentation, the limited edition goods, and don't skip the drinks!
The Square Enix Café are currently running the Octopath Traveler theme until August 10, 2018.
Leave a Reply